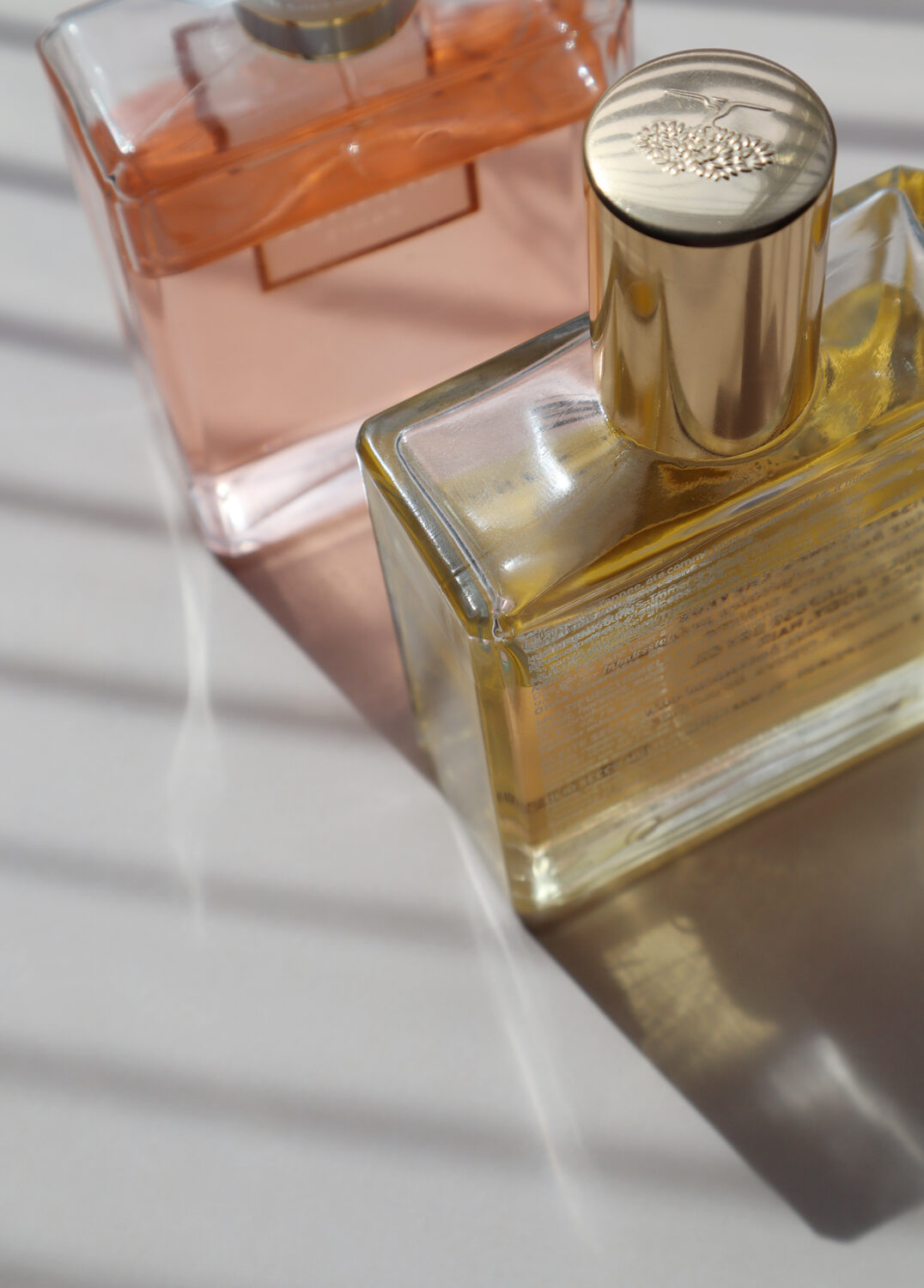 Perfumes + Body Sprays
Chanel Coco Mademoiselle – This is what you'd call my "signature fragrance." If I put this and a different a perfume on each wrist and were to ask friends or family which one "smells like me" they'd immediately pick the Mademoiselle wrist. I got my first bottle when I was in my early 20s and I've been wearing it regularly ever since.
Jo Malone Wild Bluebell – I really love this fragrance for a pick me up, on days where I am looking to feel breezy but still put together. This is my lunch out with the girls, friend's bridal shower, job interview fragrance. It's a good first impression, and is not going to get in anyone's face. I wouldn't chose it for a day that I'm doing a ton of activity (like a hike, but who wears perfume on a hike?) or when I'm going to be out from dusk till dawn as it's quite a bit lighter than my other choices and unfortunately doesn't last much more than a few hours. Although the Vaseline trick does work to seal in the longevity of your wear.
Replica Lazy Sunday Morning – To me, this is the ultimate "cool girl" scent. It's deep, more complex, but still laid back. It's the one I get the most comments on – people asking "what are you wearing? I LOVE it!" This is my date night, going out, party scent. I bring this one on trips with me since I have a rollerball (the perfect way to try out an EDP for under $50), and because of that it has some good sense memory – reminds me of my trips to NYC!
Bath and Body Works Rose Body Spray – When I am feeling my most low maintenance this is what I'm reaching for. This is the post-gym, I laid at home all day and now I've gotta run to the store type of spritz. It's not very often that I grab this one, but it does feel nice to spray it on the spring and summer clothes after they sat in the closet or drawer all winter. A good freshening things up a bit type of scent.
Lotions + Body Oils
Nuxe Huile Prodigieuse Multi-Purpose Nourishing Oil – Oh how the French pharmacy gods smiled upon us when they gave us this product. Try as I might to keep in moisture, my legs are almost always as dry as the desert. That's where Huile Prodigieuse comes in. It's a nice multi-purpose oil that works wonders to soften skin and the scent is ICONIC. I could recognize it anywhere. It also lasts forever! I've had the same bottle for two years and I've hardly used a quarter of it after regular use. This product is fairly easy to get in the US, but if you're ever in Europe I've heard it's way cheaper there.
LUSH Sleepy – This is another product I've talked about to death on this blog, but it is just that good. If you want a good night's rest, grab some sleepy lotion. It smells SO good, and the lavender is just strong enough to conk you right out. I keep a sample size in my purse as I'm in between hand creams and I might just stick to it since it does pack a good punch. Very emollient though, this is not a "light" lotion – makes doorknobs a little hard to turn. I've gotten stuck in my own bathroom before because of this one 😂
Aromatherapy Associates Deep Relax – Say no more when it comes to bath oil. This is my holy grail. It's expensive but you can always find someone on eBay selling it because they hate the scent. It's strong, it has a very earthy smell, but it is luxurious and it delivers on its promises to relax you. They also have a "light relax" for those who want a little bit more subtlety.
Candles
Byredo Burning Rose – I talked about this guy in my expensive candles post, and it is still a favorite. I burn it incredibly sparingly and do think it would be a lovely gift for someone who has their eye on one. I do not think I will consistently repurchase since there are other great candles at lower price points, but if you are looking for a splurge this one is always a good choice.
Boy Smells June's – This candle has notes after my own heart. Bergamot, tonka, daffodil, all things I really love. Boy Smells are a good mid-range candle that won't break the bank, but do feel quite a bit more fancy than your run of the mill Bath and Body works candle – I'm not above those either, keep reading.
Bath and Body Works Rosewater and Ivy – This is the perfect spring scent. She's subtle, which is occasionally hard to find at B&BW – if you've ever watched a "candle vlogger" you've heard about their infamous "throw." I think this candle is a crowd pleaser, you can burn it when people come over and just let it be, nobody will complain. There's no overpowering vanilla or smothering apple scent. It's low maintenance and doesn't give you a headache after a long burn.
Diffuser Blends
Aesop Isabelle – This oil blend just smells so fancy, like a luxurious day at the spa. Spearmint, sage, and rosemary are the perfect blend to unwind at home. I put a drop in my face mask when I'm headed out for a longer errand – nothing like a little aromatherapy in the long line at the DMV.
Natures Truth Essential Oil Good Nite Blend – I call this my "breathable nyquil" – it really does work! They also have a linen spray! At the end of a long day, diffusing this and laying back with an aromatherapy pillow is enough to knock you right out.
What are your favorite home and body fragrances?