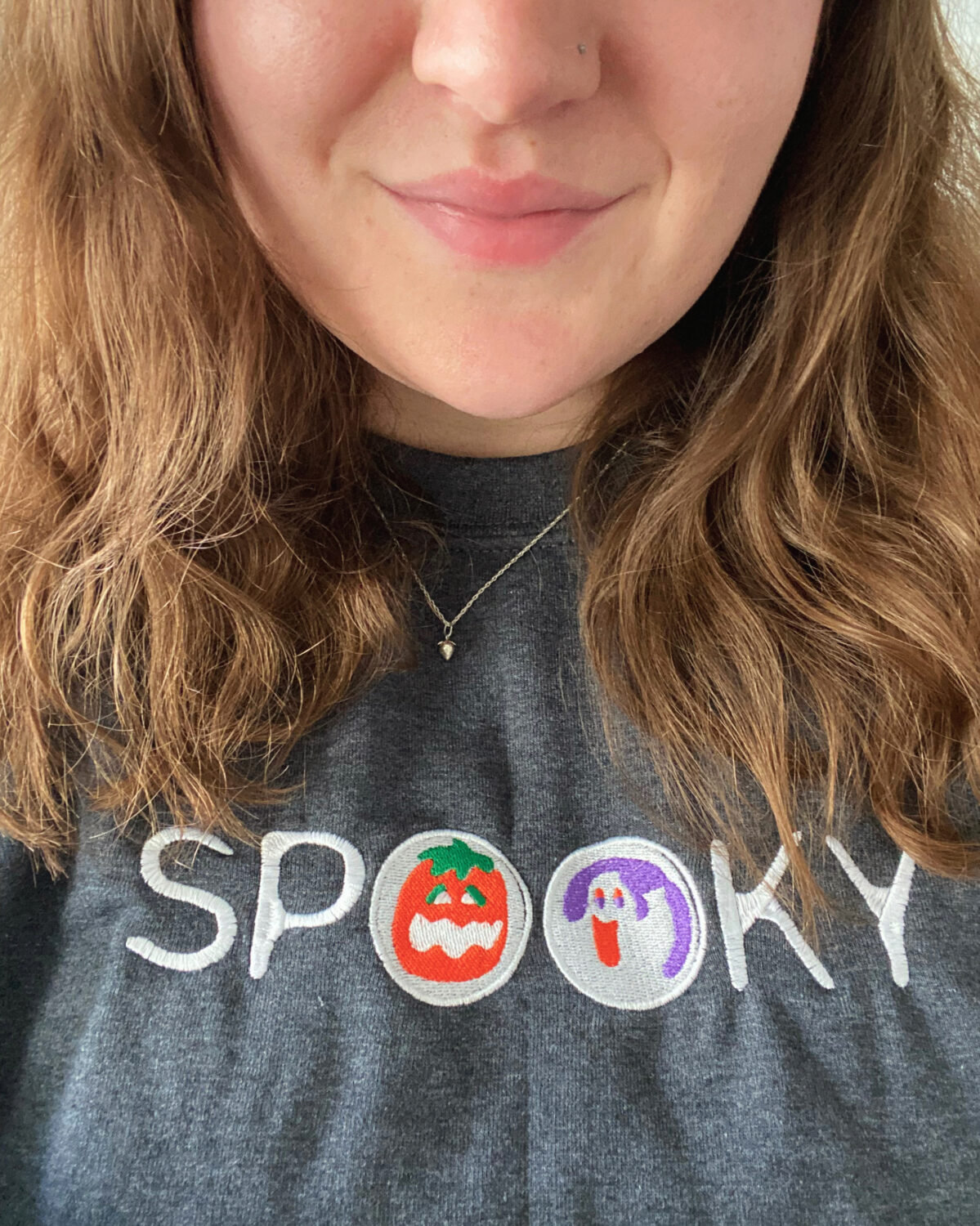 Happy Halloween! This month was jam packed with fun fall activities, a trip to the pumpkin patch, decorating the house with spooky decor, watching a Hocus Pocus double feature, and taking a drive to see the aspens in Ogden Canyon. We also escaped the chilly weather for a trip to South Carolina. Keep reading for some cozy faves!
Beauty + Skincare Favorites
Fenty Beauty Gloss Bomb in Hot Chocolit – I've loved Fenty's Gloss Bombs since they first came out but I only ever bought the original, and lately this color was really calling my name. It's sheer enough to be flattering on practically any skin tone, and is just so pretty!
Sunday Riley Good Genes Serum – This is a product I just keep coming back to! I've purchased it a few times over the years and nothing else I've tried has ever really duplicated it. The Ordinary's AHA mask used in tandem with their lactic acid serum is probably the closest I've found at a decent price point.
Handcraft Loves
Spooky Embroidered Crewneck – I added this to my cart SO QUICK! Pillsbury sugar cookies are so nostalgic (90s kids know) and now I have the perfect sweatshirt to wear while handing out candy to trick-or-treaters!
Wellness Favorites
The Moon Cycle Cookbook – Maybe TMI, but I've been fascinated with all things menstrual cycle lately! I have PCOS which can cause a bunch of annoying symptoms, I love that this book has recipes that can help balance your hormones and gives you tips on eating for your "phases" to really optimize your health and energy!
Fashion Finds
Reformation from The Real Real – I ordered a leopard print dress and a blue floral skirt from TRR a few weeks ago, and both of them fit perfectly and were more than 50% off retail!
Miscellaneous Obsessions
Sourdough Starter – This month I was gifted some sourdough starter and ever since I received it I've loved looking up recipes, optimal "feeding" conditions, and just the fun science behind it all. So crazy that sourdough takes on the "flavor" of the place you live, and that you can grow wild yeast with just flour and water!
Reading Corner
I'm Glad My Mom Died by Jennette McCurdy – This book was so heart-wrenching to read. I grew up seeing Jennette on TV, she played such fun characters that it's really crazy nobody had any idea she was going through so much behind the scenes. As tough as the subject matter is, this is probably one of the best books I've read this year.
The House in the Cerulean Sea by TJ Klune– This book was just plain cute. It was like Foster's Home for Imaginary Friends meets Matilda. I think anyone would enjoy this book, it has a good message and a heartwarming ending.
Streaming Spotlight
Still watching Outlander! I really can't get enough.
Don't Worry Darling – Okay, I guess this doesn't count as streaming since I saw it in the theater (my first time at the movies since 2019!) but it was a standout given all the hype surrounding it for months! I thought it was a good watch, but not groundbreaking – think Stepford Wives meets Black Mirror? I am glad I saw it, and have enjoyed discussing it with friends!
Feasting On
My 52 week cooking challenge is still going strong! Keep up with what I'm making by checking out the #JessMakes52 hashtag!
Best recipe of the month was definitely Pumpkin Fondue!
What are you loving lately?