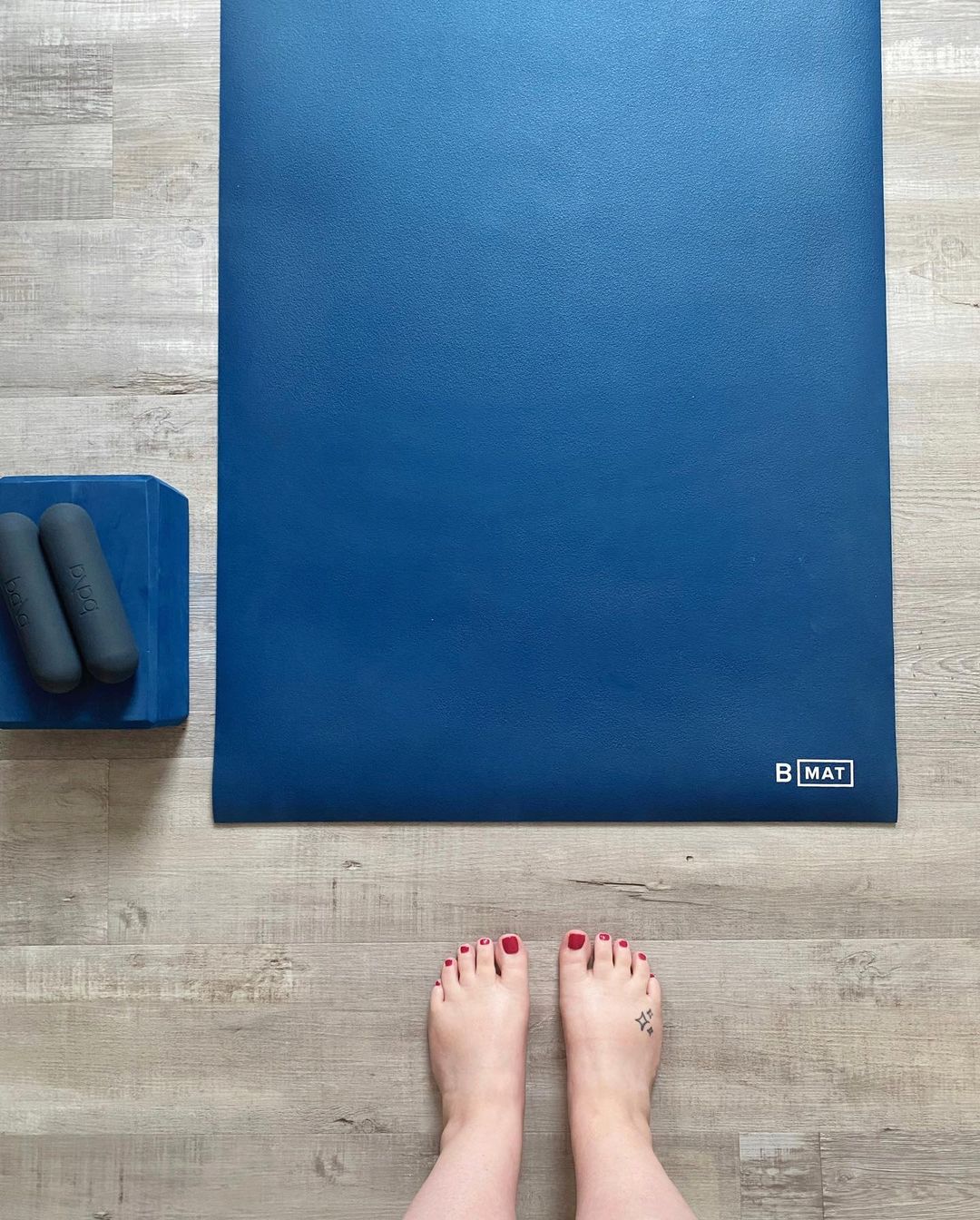 Recently I've been hitting the gym a little harder, making a point to visit at least four times a week. That's been a big change, given that I've never really been much of a gym rat. In the past I've gotten my exercise from hiking and horseback riding, going on long walks, or y'know, shopping ?. I've come to enjoy my gym time, especially since one episode of The Real Housewives of Atlanta is about the same length as a good workout on the elliptical. Having a partner to encourage and be encouraged by is also a big help. Now let's get into the favorites!
B Mat by B Yoga – Before I got this mat I'd used a flimsy one from Target that slid around like crazy when I did any sort of pose more advanced than shavasana, and I finally bit the bullet on a nice mat when I started to get more serious about going to class pre-covid. This mat has made all the difference, and if anything it's a little TOO sticky, but I don't slide around at ALL in class anymore, even during the really sweaty ones. I'm looking to eventually upgrade to the "strong" version of this mat (thicker for my poor delicate knees!) but for now this mat is really worth the investment for me.
B Yoga Essential Mat Cleaner – I ordered this when I started upping my yoga game earlier this year. It helps to keep my mat fresh and I love the orange and spearmint scent.
Bala Bar Weights – I bought into the hype of the Bala weights during quarantine, pretty much like every instagram influencer out there. I'm not an influencer by far, but these weights are way more sleek and handy than your traditional dumbbells. I love that they're easy to store, easy to travel with, and they're made of high quality materials. The last cheapy dumbbells I owned actually melted into a table they'd been placed on, no kidding.
Girlfriend Collective Biker Shorts & Paloma Bra – I will never stop singing the praises of Girlfriend Collective activewear. I own 3 pairs of biker shorts, countless sports bras and leggings, and they all get regular use. They're made from recycled water bottles, they hold up, and they're significantly cheaper than similar products from Lululemon or other prestige workout brands.
New Balance FreshFoam Sport – These are a bit basic, and I've never really been a gal to splurge on running shoes (if these can even be considered that, runners, don't come for me!) but these really fit the bill when it comes to the daily gym session. I have two pairs and they've lasted me a least a year and show no signs of stopping. I like that they have a roomier toe box than other tennis shoes I've tried, and they don't rub or blister my feet. That's really all a girl who has no real knowledge of running shoes can ask for.
Hydro Flask 21oz Bottle – I am a bottle hoarder. I have Yeti cups, Starbucks tumblers, a Swell bottle, a CamelBak, two types of Hydro Flask, and I STILL catch myself pausing at the bottle aisle at the store whenever I go. This abundance of drinking vessels has allowed me to become really picky, and to be honest the only bottle that works for my gym routine is the 21oz Hydro Flask. Anything with a wide mouth will allow for spillage, the bite valve tip on the CamelBak feels like it would get grimy at the gym (thanks, covid) and my gym bottle really needs to be able to fit in my car's cupholder, which every other bottle in my house simply won't do. When it comes to hydration on the go, don't settle for less than the best. Be picky.
Beats Corded Headphones – For a while I had wireless headphones that I was using at the gym until they started popping out of my ears. That got so annoying that I found some "old school" corded headphones that went into the lightning port on my phone, since Apple so rudely did away with the headphone jack how many ever iPhones ago. I mostly use these to watch the Real Housewives and no complaints. They seem to have decent audio quality and I got them for a pretty good deal.
Baggu Cloud Bag – I went for a few months without a gym bag since I rarely need a change of clothes after working out as we only live a few minutes from the gym and I work from home. I'm rarely in a rush, but a bag has been handy at times when the pool is involved, when I've needed to shower or keep something in the locker room. I grabbed the Baggu cloud bag because it's big enough to use as a gym bag, but is totally packable and I could repurpose it for pretty much any occasion. I can just keep it in the car with a towel and some crocs slip-ons and it's ready to go for a beach day or whatever. We love a multi-hyphenate.
Yoga Block by Gaiam – Unlike some people, I have rinky dink shorty short arms. My yoga teacher refers to them as "T-Rex Arms" and sometimes that means I need a little boost for certain poses, especially if it has anything to do with touching my toes. These blocks really help me modify my position and can save quite a bit of hurt in some tricky poses. Looking at you, "thread the needle" pose.
What are your gym essentials?