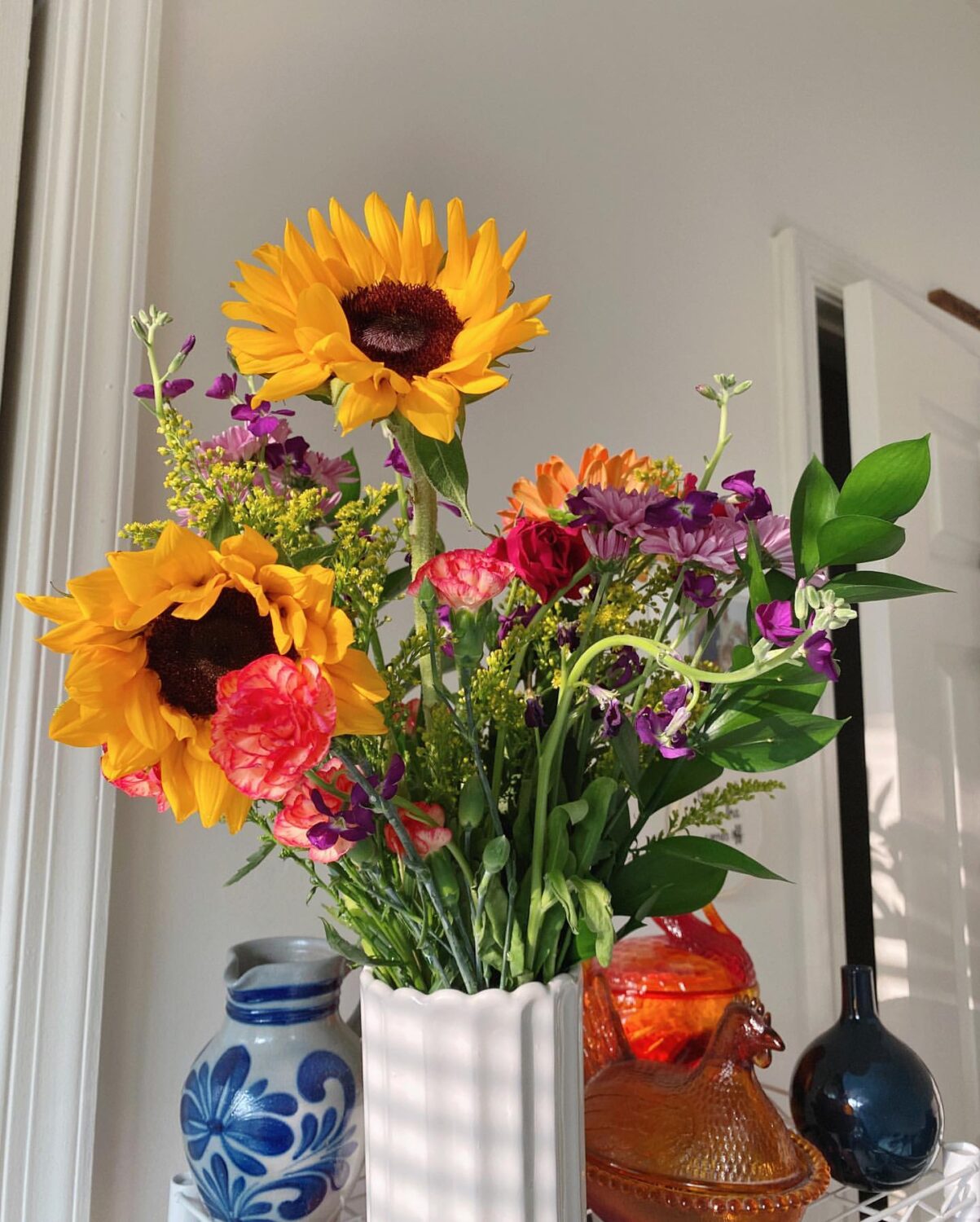 Every once in a while, something is just so good that you keep coming back for more. Usually, when I use up a product, I'm looking forward to trying the next thing and moving on in the quest to find the Holy Grail. Other times though, I'll find myself scraping the very last drops out of something and then heading immediately to the store or website just to purchase the same thing all over again. These love affairs are rare, but when I find one I hold tight and never let go.
Hair
Drybar Lemondrop Brush – This is a product I've sold to friends by word of mouth, it's just such a good brush! I've repurchased this guy a good three or four times in the past few years, but I do have a backup Wet Brush that lives at my parent's house that IS a suitable dupe.
Suave Kids Detangling Spray – Yes, this stuff is for actual children but when you have fine, curly/wavy hair like I do, you're gonna want some tangle insurance. It's cheap, it's easy to find, and it doesn't add any unwanted goop or weight to my hair (which is the problem I've found with a lot of "adult" hair detanglers) I've even found a hack for keeping it looking chic on your countertop – enter the amber glass spray bottle. Nobody needs to know 😉
Olaplex No. 3 – This is a relatively new product for me, I got a value set from Costco at the end of last year, and I just made a repurchase from Sephora. It's real good stuff, especially for hair that's prone to breakage. During quarantine I made sure that I took extra good care of my hair (after, ahem, chopping 3 inches off over the trash can with fabric scissors, oops) and this mask has saved the day.
Slip Silk Scrunchies – Another part of my hair journey during was to stop using regular pony tail elastics and switch over to scrunchies. I know Carrie Bradshaw would have a fit over them, but honestly Carrie had poor judgement a lot of the time anyway. These guys are so soft, provide a good amount of hold for my hair, and hardly make a crease when I take my hair back down. They're especially nice for avoiding the too tight ponytail scalp pain. I have a LOT of hair, and it's nice to know I'm not ripping it out at the rate I once was.
Bath and Body
Dr. Teals Epsom Salts – I've tried probably every bath product known to man, but one thing remains true – when it comes to baths I'm a salt and oil kind of gal. I've tried bombs, bubbles, melts, you name it. They're all lovely and I'm happy to use them all, but there's just something about soaking in some epsom salt with a touch of bath oil for softness. It's simple, just like a roast chicken – all you need is salt and oil.
Tree Hut Scrubs – I think if I've probably mentioned these scrubs a hundred times on WiRL, and to a hundred people in real life. I give them as gifts and turn friends into believers. Every time I try a different sugar scrub, I'm disappointed. Tree Hut just does it right. They have a million scents, the scrub itself has just the right amount of grit, and they last a long time and don't cost a ton of money. Lucky me, I just picked up one of these babies in "candy cane" to get my minty scrub on for the holiday season.
Flamingo Shaving Cream – I'm so picky when it comes to a good shave. I'm still looking for my perfect razor (dollar shave club is in the running right now) but I've found my shining star when it comes to a shaving foam. Flamingo's is perfect, and *knock on wood* I've yet to cut myself while using it. The only fallback is the aerosol packaging, but maybe someday they can bring us a more environmental choice. I'll keep searching, but for now, if you're looking for some shaving cream, this is the best one.
Beauty
Chanel Mademoiselle Perfume – Years ago I went cruelty free with cosmetics. I can proudly say my skincare and makeup arsenal are about 98% cruelty free – save for a few little things I've received as gifts, and the unavoidable like deodorant and toothpaste (I've tried, y'all, I really have), but I still can't find a CF perfume that does it for me the way Chanel Mademoiselle does. I still shop cruelty free whenever possible and that won't stop any time soon, but if I can get this perfume authentic and second hand, I'll do that. Thankfully, I don't go through it very fast.
LUSH Pink Peppermint – I'm fairly certain I've raved about this foot lotion on a monthly favorites post recently, but I'll do it again for you now. This stuff is great. It smells like peppermint (my fave), looks like pepto bismol (in a good way) and really does the job when it comes to soft feet. Put some on and then pop on some socks and you're golden. Pedicure who?
LUSH Sleepy Lotion – Another LUSH favorite that I can't stop going on about. This stuff, I've said it a million times, really does knock you out. I put it on my shoulders and chest after a shower and 30 mins later I'm out like a light. Trust me on this!
Pixi Glow Tonic – This stuff is a nightly go-to for me. I just finished my 2nd bottle, and though I am taking a break from it since I have some other glycolic acid products to use up, I give this my stamp of approval and will be back for her the moment the need is there.
Tweezerman Tweezers – I know, how often do you really need to repurchase tweezers? Not often, especially if they're good. The problem is, when they're good, you're gonna need car tweezers and purse tweezers and medicine cabinet tweezers, and so on. They're good enough to go on a plucking spree, and although I wouldn't advise trying a new eyebrow shape without a professional… listen to your heart.
Tatcha Rice Polish Foaming Enzyme Powder – If you can't tell already, I'm a gal who loves to get her exfoliate on. Not only am I prone to congested skin texture and clogged pores, I love a squeaky clean face. This rice powder starts off as little granules that turn into foam with a little water, and it's just enough gentle exfoliation to feel fresh and glowy. It's a bit different than other cleansers I've tried but I'd recommend for those who are looking for a little extra buffing in their skincare routine. I also have it on good authority that this is one of Meghan Markle's faves, if you need any more convincing.
Wellness
Girlfriend Collective Activewear – I started off by buying a Girlfriend sports bra about three years ago, and I haven't looked back since. Their products are made from recycled water bottles, and they make cute matching sets in fun colors, at a decent price for activewear compared to Lululemon and the like. My favorite are their bike shorts that I use not only for working out, but under dresses and skirts if I'll be walking for a while or it's a particuarly windy day. They hold up well in the wash, they have the right amount of stretch and compression, and are sustainable. What's not to love?
Supergoop Unseen Sunscreen – While this is technically a beauty favorite, I'm including it in wellness because it's not JUST about looking cute. Sunscreen is essential, and Supergoop has the best formulas – my favorite being the Unseen – a CLEAR! formula. I don't find it drying or chalky or eye stinging. The best part is the brand has a product for every finish type – a matte, a glowy, and a primer-like formula. Since I am fair skinned I cannot speak to how their products work on those with darker skin tones, but I have seen that they are branching out in more colorways so hopefully they have a product for everyone!
Touchland Hand Sanitizer – I never knew until COVID-19 that there was a such thing as fancy hand sanitizer, but I learned fast. I saw these on an instagram ad, and surprisingly when all other hand sannies around the US were sold out, these were still in stock. I ordered a few in the watermelon scent, and I began to enjoy my new sanitizer habit. I'm looking at the orange and lavender scents for my next restock – but to be fair, Bath and Body Works sannies are way cheaper and just as fun.
Miscellaneous
Sonix iPhone Cases – I'm going on a year strong with my current phone case and PopSocket (they match!) and I don't think I'll ever buy another brand of case. My phone has remained secure through many tosses and drops (I do give my gorilla glass a BIT of credit for that, also) and I never really worry about it. I know my phone is good. Highly recommend.
Honorary mention to the PopSocket. I went on such a love-hate journey with my first one years ago, but now that I found one I love, I know I couldn't live without it. Now to find a wireless charger that works with them!
Herschel Little America Backpack – I bought this backpack my Freshman year of college (nearly 8 years ago!) and it is only just now starting to throw in the towel with some wear, but if I really wanted to push it I could probably get another year out of it. It's about time for an upgrade, and I hope my next Herschel bag will last me just as long.
Sam Edelman Gala Sandals – I'm notoriously hard on my shoes, especially sandals. I've had three pairs of these and even though I beat the crap out of them, they stay nice for a really long time. Plus they're comfy and they're a bit more polished than your run-of-the-mill flip flop. I just said goodbye to my silver pair this summer, so it's time to start shopping while sandals are out of season (and on sale!) for next year's pair.
Papermate Clearpoint Mechanical Pencils – These pencils have been a lifelong favorite, I've coveted them since at least the 5th grade. These are the pencils that you'd have to guard with your life, the first pencil to get stolen, and the absolute LIES I would tell if someone asked me to borrow a pencil and I had an extra one of these babies in my backpack. Now as an adult, these guys are reasonably priced and I bought a set of black ones to class it up from their usual hot pink, but I'm still riding high on being the cool kid with the fancy pencil, as I work from home… alone.
Marvy Le Pen – Another writing fave! This pen is more like a tiny fine tip marker than a traditional ball point, but I love them. I have a set of 5 and I count them regularly like they're going to run away. Probably left over from my days of having my "good" pencils stolen as a kid.
Warby Parker Glasses – I'm currently wearing my 3rd pair of Warby's and I have been thoroughly impressed with all of the pairs I've gotten. Prescription glasses with cool-ass frames for $95. What's not to love? I'm a fan of the clear ones myself, and I even treated my eyes to the blue light tinting. I can't see paying $300+ for glasses ever again.
Yeti Ramblers – My first yeti was a beach week purchase in 2015, and I've been kind of obsessed ever since. My favorite one is the big boy 32oz, but I have a 20oz, a wine glass, some can koozies, and a lowball glass. I'm hooked. Canyon Red is my favorite colorway, but they've since discontinued it. Good thing Yetis are made to last!
Food and Beverage
Bonne Maman Jams – The longer this list gets, the more crazy I feel like y'all will think I am. This jam is just SO good, and as I've said before, everybody needs a jam brand they're loyal to. I'm only (partly) kidding, but seriously, if you're in the need for some good jam, give Bonne Maman a go. Great with goat cheese, a pb&j, linzer cookies, you name it! Their jars are super cute and great for reusing as well, I hoard them like a depression-era grandmother for all my random bits and bobs.
Justin's Dark Chocolate Peanut Butter Cups – These are the perfect "I want something sweet but not something SO sweet I'm headed for a coma" kind of treat. I'm sure they're not THAT much better for you than a regular Reece's cup, but they do taste more "real" if that makes sense. If you're wondering, Justin's does have less sugar (about 2g less) than a Reece's cup, I googled it 😉
Espolon Reposado Tequila – This tequila came into my life by accident! During our lockdown I did curbside pickup at the ABC store and my order for silver tequila got it's wires crossed and I ended up with gold. Honestly, it was good enough that I'm not looking back. Reposado tequila feels cooler, even if there isn't too huge of a difference. I'm on my third bottle – been making a lot of at-home margaritas and ranch waters for myself and roommates.
Ketel One Peach and Orange Blossom Vodka – If you really read the packaging of this stuff, you'd start believing it was actually good for you. Natural botanicals, no carbs, sugar or artificial flavors. I know drinking isn't necessarily a healthy choice, but hey, if you're gonna do it, why not find one with a little bit less ick in it? I've been mixing it with cranberry juice, the perfect "guilt free" cosmo.
Aperol and Suze – I'd say these two apertifs are fairly different – both of the citrus persuasion, but since I discovered them respectively I've always had them on hand. I really enjoy Aperol in my summertime drinks, and spritz'd with prosecco. Suze is a newer one for me, I'd put it halfway between cointreau and chartreuse – it's herbal, it's orange-y, but it's also bitter and grown up. I pair it with my Ketel One and some pomegranate juice, and it's the perfect fruity, yet not too sweet cocktail.
What have you repurchased time and time again?
I'd love to hear in the comments!