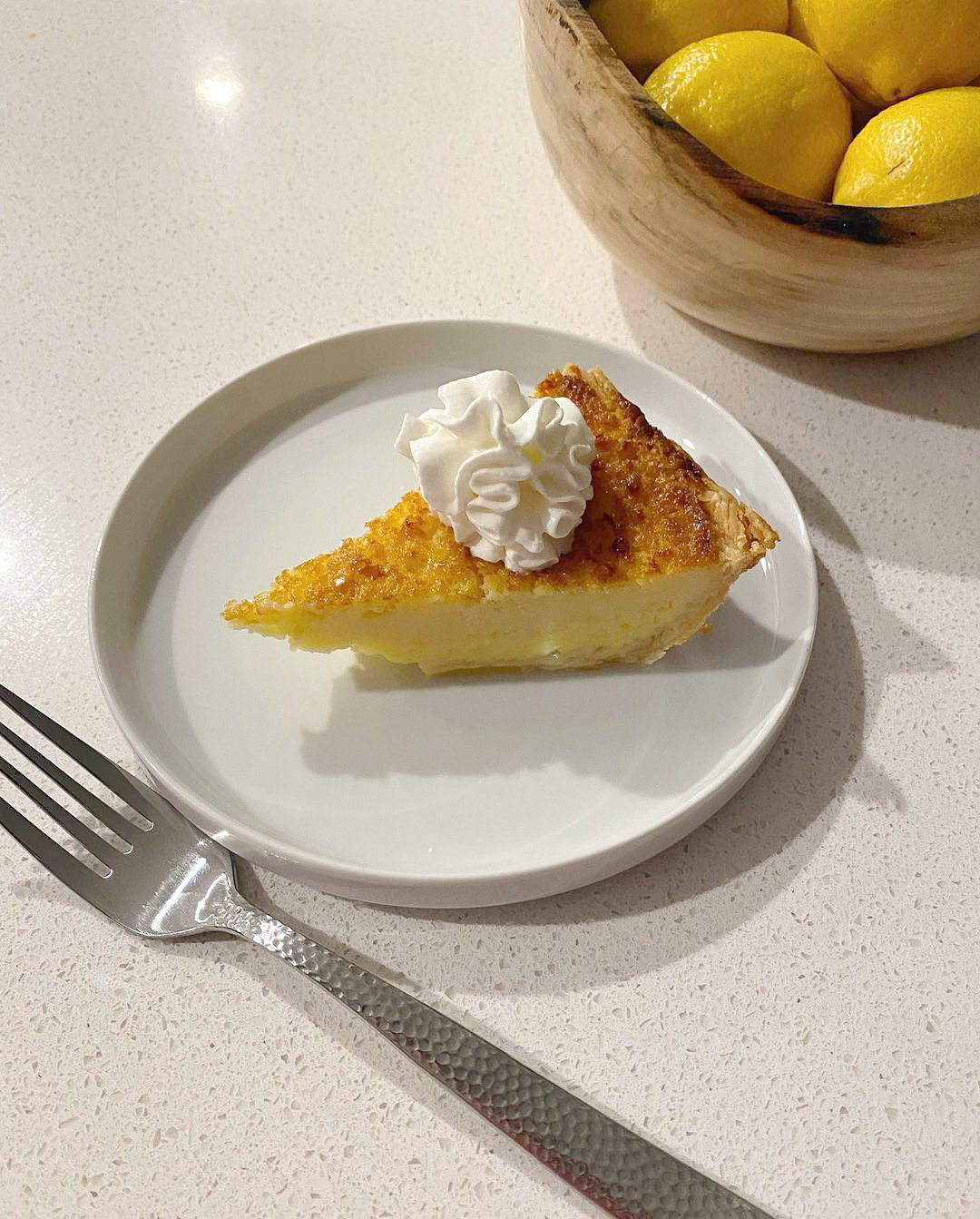 I'll admit, sometimes I exaggerate. I'm a bit of a drama queen and I live for hyperbole. I'm also a dessert snob, and unfortunately a little hard to please in that category. That being said, there are few things in this world that I absolutely never BS about – and one of those things is food. When I say something is DAMN GOOD, I mean it, in earnest. We don't mince our words about food around here.
When I sought out a lemon dessert recipe that was more than just okay, I looked beyond lemon meringue. I stuck my nose up at lemon bars. I rolled my eyes at lemon glazed pound cake. I wanted something that was the best of all worlds. Tart, not too sweet, certainly not finicky or annoying to eat. Something easy, crowd pleasing, and with a lot more oomph than canned lemon filling topped with a half-assed meringue. THAT was when I found Kardea Brown's Old-Fashioned Lemon Buttermilk Pie recipe.
It's a close relative to a chess pie (the real ones know): decadent, custardy and perfect.
If you're feeling adventurous and want to make your crust from scratch, I suggest you do so. I'm kinda lazy, so I used the tried and true grocery store refrigerated crust. It turned out pefectly. So perfect in fact, that I got multiple glowing texts about this pie.
Kardea Brown's Old-Fashioned Lemon Buttermilk Pie (my way):
PS: you should watch her YouTube video making this!
Ingredients:
Store bought refrigerated pie dough
1 1/2 cups granulated sugar
1 1/4 cups buttermilk, at room temperature
4 large eggs, plus 1 yolk, at room temperature
1/2 cup unsalted butter, melted
1/4 cup lemon juice
1 tablespoon lemon zest
1 teaspoon vanilla extract
1/2 teaspoon kosher salt
1/4 cup all-purpose flour
Whipped cream for topping
Preheat the oven to 350 degrees F. Line the bottom of a 9-inch pie plate with your dough, then crimp the edges.
For the filling: Whisk together the sugar, buttermilk, eggs, egg yolk, melted butter, lemon juice, lemon zest, vanilla and salt until well blended. Sprinkle in the flour and whisk just until incorporated. Place the pie plate on a baking sheet, then pour the filling over the dough. Bake until the top is golden brown and set around the edges with a slight jiggle in the center, about 1 hour. If the crust begins to get too brown, but the filling isn't ready, cover the edges loosely with foil. Let the pie completely cool to room temperature before slicing. Serve with whipped cream.
And that's it! It's so easy. I recommend refrigerating the pie before serving, overnight is best.
I can't wait for you to make this, please do and report back!
And give Kardea some love, this recipe is all her!