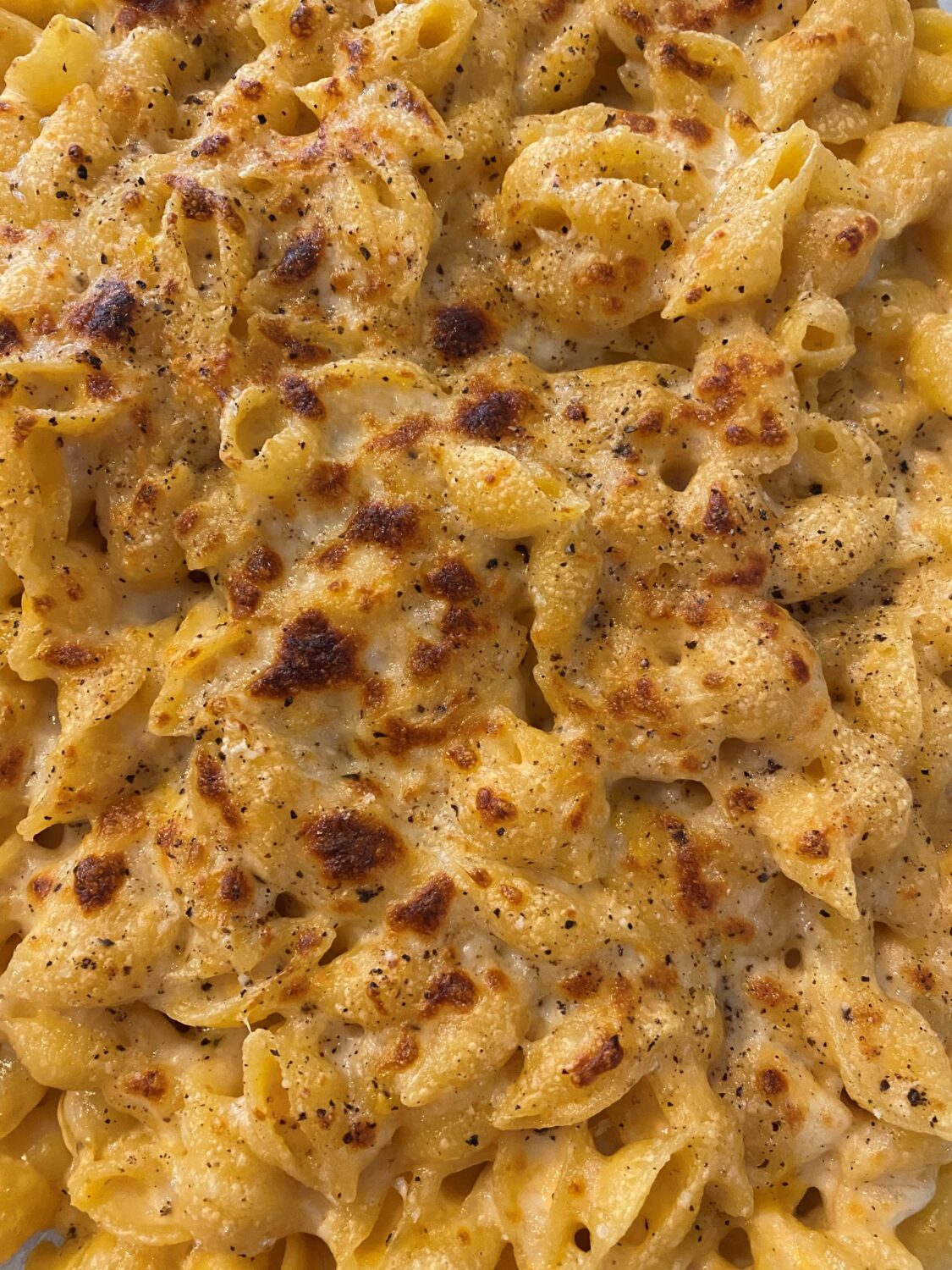 It's kind of a joke in the depths of the internet for bloggers and social media personalities to say "since sooooo many of you asked…." and then send a link to the newest skincare product or clothing item (the thing here is that a lot of times nobody has asked.) Sometimes it is genuinely true, even for someone with a modest following like me… many people have asked about certain things. This time isn't exactly one of them. I have had a few small rumblings to share the recipe when posting photos of this mac and cheese, but the flood gates weren't quite open. The DMs clamoring for tips for the perfect mac didn't exhaust me. BUT this dish IS highly requested… amongst those who I've made it for. Once they've had it, they ask for it again. As someone who loves to cook for others, that is all I need.
The secret to this mac and cheese isn't even that groundbreaking. It's got your standard ingredients, but no breadcrumbs – the key here is to pop it in the broiler for a few minutes so the top layer gets crispy.
Let's get to the cooking, shall we?
For the macaroni and cheese:
1 box (16oz) pasta of your choice – my favorites are cavatappi, shells, or penne.
3 tbsp butter
2 tbsp all purpose flour
1 clove garlic, finely grated
2 tsp onion powder
1 cup heavy cream
2 cups milk
Freshly ground pepper
12 ounces sharp or white cheddar cheese, grated
12 ounces gruyère, grated (I have also used mozzerella in a pinch)
Optional:
Parmesan cheese
Hot sauce
Spices of your choosing
Grate your cheese – I typically use 1 brick each sharp cheddar and gruyère, as well as a small chunk of parmesan. Save about 1/4 of this cheese for the top. I have thrown brie and gouda in at times as well. Listen to your heart, but cheddar is essential! Pre-shredded cheese is okay too, but I find that grating my own is usually worth it.
Cook pasta in boiling water for around half the cook time listed on the box. Since this dish will finish in the oven you want your pasta to be slightly undercooked. Add a bit of olive oil to keep the pasta from sticking once strained.
In a medium pot, heat your butter until melted, then add garlic. To make your roux, add in flour and continuously stir until the mixture turns golden. Add your milk and then season with salt, pepper, onion powder, and any other spices you'd like (smoked paprika, old bay, curry would each be great here!)
Heat oven to 425 degrees. Coat a casserole dish with non-stick spray.
Slowly add your cheese to your béchamel (milk+roux) and stir in between handfuls. Once cheese is added, in goes your heavy cream.
Once sauce is mixed, pour in cooked pasta. Combine gently to avoid breaking up the noodles.
Pour mac + cheese mixture into greased casserole dish.
Apply a generous amount of shredded cheese to the top of your pasta. Parmesan encouraged!
Cover with foil and cook for 15 minutes at 425, then uncover and turn your broiler to high and allow the top layer of cheese to get nice and crispy.
Serve and enjoy!
What are your favorite additions to mac and cheese?
If you try this recipe, I would love to know your thoughts!