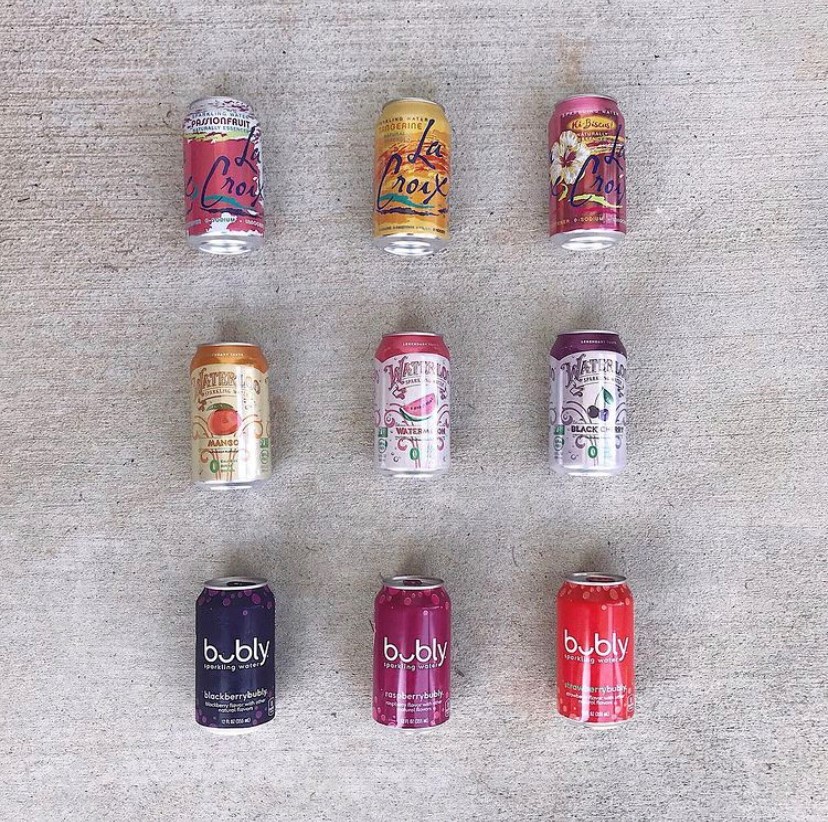 I'm what you could consider a sparkling water connoisseur. I keep multiple flavors on deck (variety is key) and I have become somewhat of an authority on (and also mocked for my love of) the bubbly beverage amongst my friend group.
Sparkling water is polarizing. It seems people either love it or hate it, and honestly I can understand why there's such a high barrier of entry. There are simply SO many flavors and brands to choose from, and if you have one bad experience it could all be over for you. I find the people that are most likely to crack open and enjoy a can are people that find themselves gravitating to savory flavors rather than sweet. If you're a super sweet-toothed type of person, sparkling water might be just a touch subtle for you, especially in the beginning. For those people, I recommend to stay away from La Croix and rather try a more fruit-forward drink like Spindrift. Waterloo is also a great starter brand.
When it comes to spiked sparkling bevs, Barefoot seltzers and Whiteclaw are the way to go. Truly tastes like metal and the other adjacent companies are hit and miss. I haven't really branched out too far into this realm, as I prefer mixing my own cocktails.
Not all sparkling water is created equal, but my #1 rule of thumb is that it must be as cold as humanly possible and MUST be sipped from the can. No ice, no pouring, no straw.
The Best of the Best
Tea and Lemon Spindrift – This is a recent find but I've repurchased probably 3 or 4 times since my first pack just a few weeks ago. Top fave of the moment.
Passionfruit La Croix – This is the first sparkling water I ever finished a full pack of. There's just something about it!
Mango Waterloo – I usually have this on hand, generally a crowd pleaser too.
Pineapple Spindrift – Another recent buy, really feeling Spindrift lately.
Key Lime La Croix – a great mixer, and generally "sweeter" than other lime seltzers.
Raspberry Pink Lemonade Polar Seltzer – This one surprised me, and I'm looking forward to trying the other lemonade-y flavors from this brand.
Apricot La Croix – My first love. Need to come back to this one.
Hibiscus La Croix – Very good for summer. Usually the La Croix "seasonal" flavors disappoint but this one was very solid.
Peach + Honey AHA – Another solid pick, great in a wine spritzer. Will look into other flavors, their blends are interesting! Might pass on Black Cherry + Coffee though…
Raspberry Bubly – No complaints. Raspberry in any form is great.
Not My Top Choice, But Still Pretty Good
Blackberry Spindrift
Raspberry Lime Spindrift – this one was recommended a ton in my Instagram DMs!
Apple Bubly
Coconut La Croix
Watermelon Waterloo
Grape Waterloo
Cucumber Spindrift – this one tastes a bit salty to me shomehow, but I'm planning on giving it another try.
Strawberry Bubly
Peach-Pear La Croix
Lime Bubly / La Croix – best mixed in a cocktail.
Do Not Touch These With a 10 Foot Pole
Cucumber Mint Good & Gather (Target) – I thought this would be a cute and refreshing spa water type of experience. NOPE. Tastes like tzatziki sauce, and not in a good way.
NiCola La Croix – I tried this guy when I was attempting to give up Diet Coke for the umpteenth time, and even the packaging is reminiscent of my trusty DC, but it was just bad. Nobody in the house liked it, and I tried to pawn it off on so many people. We ended up throwing it away when I moved.
Limoncello La Croix – ICK. It tastes like melted lemon meringue pie. Very strong vanilla aftertaste. Just no.
Still Haven't Tried These For Some Reason (Ranked By Which I'm Buying Next)
Peach Waterloo – hard to find, but I hear Whole Foods has it.
Strawberry + Cucumber AHA
Pasteque La Croix
Grapefruit Spindrift – also highly recommended via IG DMs!
Melón Pomelo La Croix
Blueberry Waterloo
Strawberry Spindrift
Razz Cranberry La Croix
Coconut Waterloo
Orange Bubly
What is your favorite sparkling water?
Have you tried one of my faves?
Let me know your thoughts in the comments!