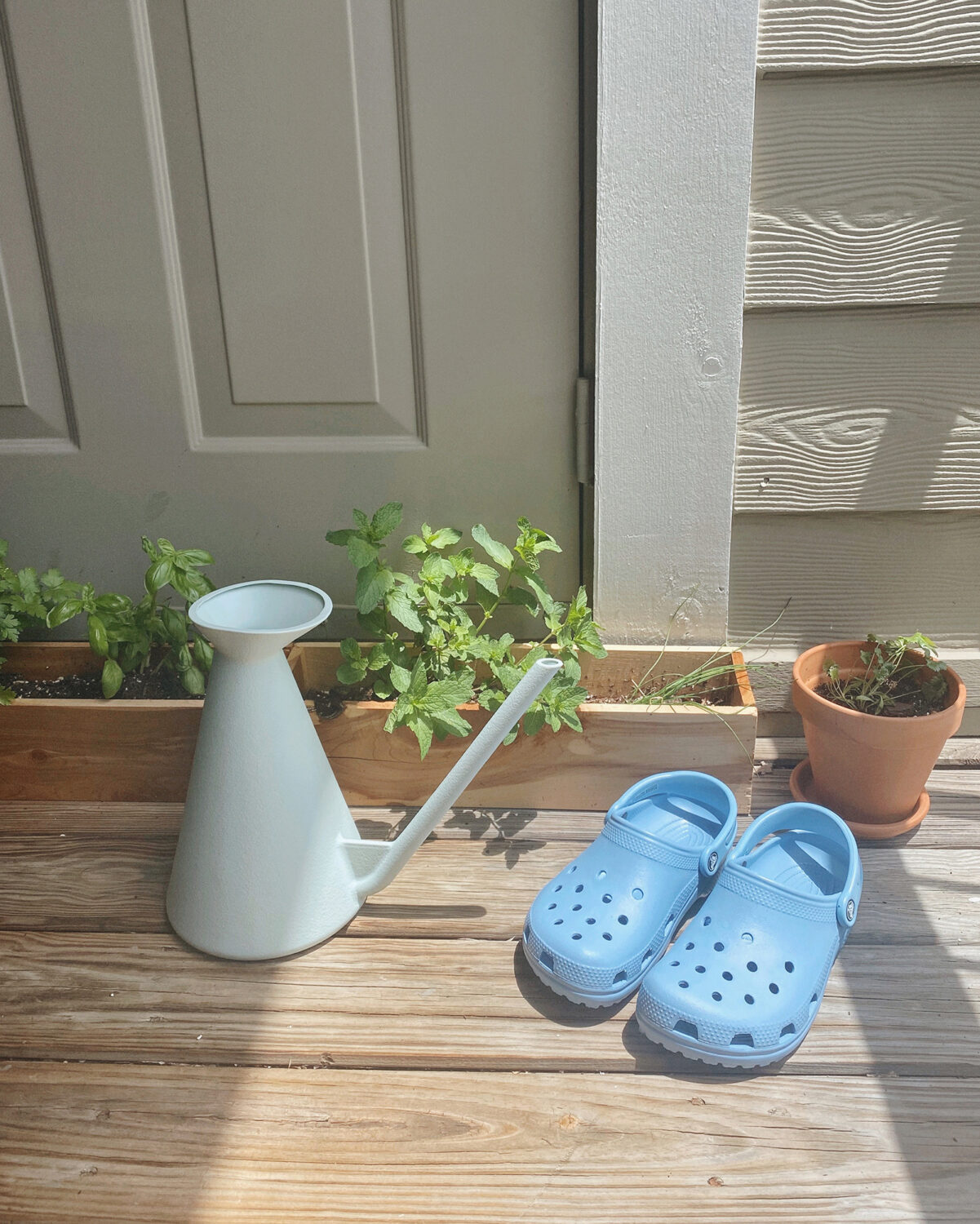 What a busy few months! I've glommed both May and June together since these two have really flown by. We're already in the deep heat of the summer here in VA, and even though I've been spending a ton of time at home, there's been a ton going on! Here are some of my recent faves:
Beauty + Skincare Favorites
The Ordinary AHA 30% + BHA 2% Peeling Solution – The past couple months I've been keeping it really natch, mostly because I haven't been leaving the house except for groceries. One thing I have noticed is that since I've been wearing masks I've had an increase in skin texture around my cheeks and jaw. This stuff has so much of a hype for a reason, it really brings the glow.
Glossier Lash Slick Mascara – On my few little at-home "date nights" I've given my lashes a little swipe of mascara, and the glossier one is my go-to for an easy look. Their lipsticks are also some of my low-maintenance faves.
Touchland Power Mist Watermelon Hand Sanitizer– I wouldn't necessarily consider this a beauty favorite, but since I've been low key the past few months, this is a new skin product I have been reaching for. I love the watermelon scent, that the packaging is sleek and fits well in my purse, and it doesn't seem to dry my skin out as bad as other hand sanitizers.
Handcraft Loves
Porcelain Berry Basket – Farmers markets are opening up again and I've been chomping at the bit to get myself some summer berries. Blackberries, raspberries, bluebs, cherries even! Can't get enough, and these cute ceramic baskets bring the farm home!
Hand Blown Glass Tumblers – I've been dying to take a glass blowing class ever since I finished my 8 week pottery class last year.
Wellness Favorites
Hoya "Hindu" Rope Plant – It seems really silly, but I have been lusting after this plant for months. They were exorbitantly expensive at my local garden center, so I took myself over to Etsy and got a starter plant for a fraction of the cost at the nursery. I love this plant because it reminds me of the spiral potatoes you get at street festivals, it also resembles kettle cooked potato chips!
Balcony Herb Garden – The garden center has become my second home since quarantine, since it's spacious, outside, and plants bring me so much joy. I picked up some parsley, basil, chives, cilantro, and mint, and ever since I've been living for mojitos with muddled mint, tacos with cilantro, pasta dusted with parsley, and potatoes sprinkled with chives. Watching these herbs grow has made my days stuck at home so much brighter.
Fashion Finds
Crocs – I finally caved and purchased a pair of "chambray blue" crocs. They're perfect for wearing while I water my balcony garden, and for future trips floating down the river. Plus they match my car!
Upstate Galaxy Dyed Sweater – I've loved this sweatshirt for a few months and I ended up tie-dying a Gildan sweatshirt in a similar colorway and I'm pumped to wear it this fall!
Miscellaneous Obsessions
Propagating Plants – Ever since I joined a few plant communities on Reddit, I've been obsessed with propagating plants. So far I've only been working on succulents, but I have a few baby burrow's tails and what I think might be jelly bean sedums!
Zwilling Espresso Glasses – This one is kind of funny! Before beginning stay-at-home in March, I spotted some double-walled espresso glasses at HomeSense that I had considered but didn't make the move on. They were the perfect size for a sipping liqueur, the perfect amount of bloody mary, or even a small glass of wine (I've come to learn that I'm into a light pour when it comes to wine). A few weeks after stores started to open again, I went back to HomeSense and the glasses were exactly where I left them! Now I'm looking at the matching cappuccino glasses for nice big cups of tea.
Oxo Pop Containers – During quarantine I got the wild idea to reorganize and decant all of my pantry essentials. Previously I had these huge glass containers that were just asking to fall off the shelf and onto my head. Thankfully I survived that and have moved on to a lighter and easier to use containers, and I really have been enjoying them!
Streaming Spotlight
The Real Housewives of New York City – It took me years to finally get into the Housewives franchises, but now that I'm in, I'm FULLY in. I started RHONY from the beginning, and now I'm on season 6. Next up, Jersey.
Feasting On
Mini Caprese Salad – Although I've decided to take another break from dairy, I have been loving caprese salads lately. Mozzerella pearls, halved cherry tomatoes, fresh basil and a balsamic glaze drizzle (Nonna Pia's is a gaaame changer!) a lil salt & pep and you absolutely cannot go wrong! Now to find some passable dairy free mozz.
Avocado Toast with Lebanon Bologna – A few years ago my friend Tianna introduced me to Lebanon bologna. If you've never heard of it, LB is a sweet and smoky deli meat similar to salami. Plot twist, it's not Lebanese – it's actually Pennsylvanian! I've been toasting up some sourdough, smashing half an avocado with salt, pepper, and garlic and a good ole slice of PA bologna. Bomb.
Slow Roasted Chicken – Like everybody else I've gotten really into home cooking over the past few months. I roasted my first ever chicken in May, and since then I've roasted another full chicken and a cornish game hen. The secret is lots of garlic and onions, salt and pepper, and maybe some potatoes.
Pocky – I'm sure everybody and their mom has had a pocky phase in their life, but I recently started picking it up again. The matcha flavor is my favorite, but I can always get down with chocolate, strawberry, or banana. If you haven't had pocky in a while, make sure you pick some up next time you're at the grocery store!
Four To Follow
This month I'm doing a Tik Tok spotlight. It's already taking over the world!
@trendycurvy – if you're ever wondering how to style certain pieces Kristine is your girl! She can make even the simplest outfits look cool!

@what_about_bunny – Bunny is a sheepadoodle that is learning to talk, and she has the sweetest things to say!

@gardenmarcus – Marcus has such a passion for plants and puts life lessons into his videos, they're a great scroll for plant knowledge and positive thoughts.

@willedmond – Will is a vegan cook and even though I'm not vegan his recipes look so tasty that I'm saving a bunch of them to make. His chicken fried musroom sandwich had me drooling!
What have you been loving lately?