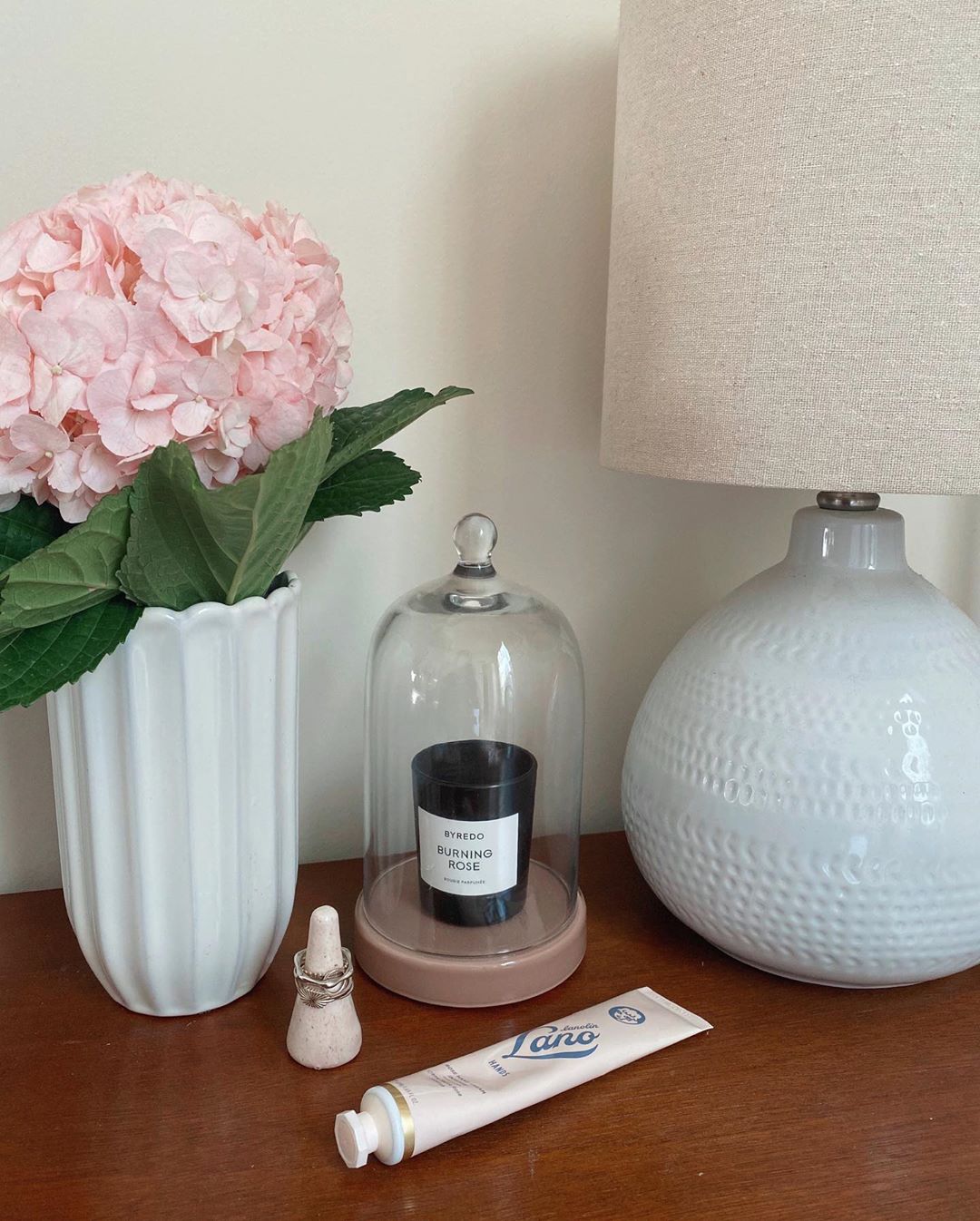 I really have no idea how, but the past two months have been both some of the most boring and some of the busiest times in my recent memory. In July I celebrated my 26th turn about the earth, and in August I began packing (and Facebook marketplace-ing) for a mid-September move, all while keeping up with some superhectic times at work. The tail end of summer saw 2 series of Real Housewives, many cans of Diet Coke, and some new cooking adventures. Keep reading for some of my July and August faves:
Beauty + Skincare Favorites
If anything, I slacked off the most in this department. It's just been so HOT that it feels icky to apply a bunch of products to your face. I did, however, fall face first into Aesop while on a visit to my eye doctor for my yearly eye exam, which just so happens to be inside the mall.
LUSH Twilight Shower Jelly – The "sleepy" scent at LUSH will just always be my favorite. No joke, a nose full of this will knock you out cold.
Handcraft Loves
Ceramic Mortar and Pestle – I'm moving in with a friend that has a whole kitchen setup, and that means all my painstakingly curated kitchen goods will be hanging out in a storage shed at my parents' house for a bit, but even though I have no need for it, this handmade mortar and pestle is really bringing the cozy vibes. I'm not even sure what I'd crush up if I owned it, but it is nice to look at!
Liberty Holiday Fabric – I'm currently taking on my second ever quilting project (my first one was in middle school, and I know I made a quilt but I can't for the life of me remember what it looked like or where it ended up) but I've got grand plans for the project after this one… a Christmas tree skirt. At the rate I'm sewing, check out my instagram for photos of my freshly skirted tree in winter of 2022!
Wellness Favorites
Aromatherapy Associates Deep Relax Oil – I was lucky enough to score a rollerball of this in a gifted FabFitFun box however long ago, and since then I've been hooked on the scent. It's a really strong, herbal smell but I really do think it makes a big difference in a bath or even just as a relaxing sniff. Lucky me, a lot of people HATE the scent (apparently) because I've seen a lot of the same rollerballs listed on eBay and Mercari for a song. Don't tell those lovely people that a full sized bottle sells for like $73 bucks, and I'll keep you in on that secret 😉
Tara Herbal Ease Neck Pillow – y'all are gonna think I'm insane, but you know those neck pillows that have the rice or beans or whatever inside them? It's one of those that you microwave, but it smells like a chai latte hug and melts away neck pain in a snap. Honestly, I don't know how I did life before it. Heating pads are like chop liver to me now. Get hip.
Fashion Finds
I snagged some white jeans from Madewell in a sale, they were trying to dump them off before Labor Day! I'm gonna rock them in autumn with a comfy sweater, fashion rules be damned. I featured crocs in my last fashion faves so it's really only up from there.
Old Navy swing dresses have been my work from home uniform all summer.
Miscellaneous Obsessions
Fall Candles – I am not usually one for gourmand scents (miss me with vanilla cupcake scented anything) but for some reason *ahem COVID-19* I am really leaning in to making the house feel autumnal, even during the last few weeks of August. I got my coconut and my fig scented candles out of the way just in time to usher in the Clove, Macintosh Apple, and the Cinnamon Pumpkins to burn.
Unhinged Reddit Communities – with a little less to keep the mind busy in the off hours, I've turned to watching other people get enthusiastic about stuff, and if there's one place to find crazy, it's Reddit. Right now I'm deep into watching the collectors of r/BathandBodyWorks, where some people have proudly invested thousands of dollars in hand soaps and body mists. I've also taken a whirl around r/BravoRealHousewives, which is always a good place to chat about the NY and BH ladies.
Streaming Spotlight
As vapid as some people think it is (I think it's an insightful commentary on both the ideals and flaws of American culture) Reality TV is about all I can stomach right now. I think that's fair, given that so much has gone on in the world in 2020 – sometimes it's nice to be able to just tune out and watch women fight over who said what about who's veneers or the lead up to so and so's third wedding. Yes I'm talking about Camille Grammer and Countess Luann. Mention it all!
90 Day Fiancee – Jorge and Anfisa need their own show. She is the worst, but also the best. Demanding a 40k dress and a 300k ring, then locking him out of his own apartment? And now he's in prison or something? Legendary.
Real Housewives of Beverly Hills – I'll admit I'm not as crazy about BH as I was about NY, but the ladies have really grown on me. Erika is my absolute fave. Catch me boppin to XXPEN$IVE.
I also watched Hamilton. It was fine. I'm glad I saw it and I appreciate how important it is, but I think it would have been better live (obviously). It feels like a "you had to be there" kind of thing. I will admit "Say No To This" gets stuck in my head, mostly because of TikTok. Don't yell at me!
Feasting On
Dairy Free Vodka Sauce – I made the knockoff spicy Carbone pasta that's taken the internet by storm, but I used almond milk instead of heavy cream. You might think I'm crazy, but it was pretty good! Adding some spinach and italian sausage might just take it to the next level.
Roasted Garlic – if you've never roasted a head of garlic with some salt, pepper, and olive oil until it's a rich caramel color, I insist you stop reading this right now and get on that. I keep roasted garlic in my fridge to add to pasta sauces, stir fry veggies, or even smear with a lil bit of butter on toast.
Coconut Cake – My birthday was in July and even though I didn't have coconut cake on my actual birthday, I still kept with tradition and grabbed a slice from Wegman's before the month was over. Best choice ever.
Trader Joe's Pelmeni Dumplings – If you're ever looking for a good freezer meal, here's your new go-to. I recently picked these up again after trying them a few years ago and really loving them, and they're just as good now as they were then. Boil 'em up, sprinkle with some garlic salt and a lil dash of olive oil and you're golden!
Four To Follow
@umamother – this page is a beautiful tribute to moms everywhere. This is a great resource for women without children, those who are pregnant or wish to be pregnant, and if you are a mommy or have a mommy. If you want to be moved to tears and inspired by female strength, here's your place.
@thekoreanvegan – Joanne's TikToks have also taken me to an emotional place, but they are also incredibly soothing. She discusses family, her divorce, what her heritage means to her, and so much more all while cooking delicious vegan meals.
@therealmorgancasey – I love Morgan's art series where she creates portraits of her followers by having her kids choose random mediums for her to work with. Super entertaining, adorable children, and beautiful pieces!
@the_pastaqueen – Nadia is the most charming home chef. She has an adorable accent, her videos are easy to follow, and she makes cooking seem just as fun as it is tasty. Her zucchini carbonara might just be my next recipe to try!
What are you loving lately?