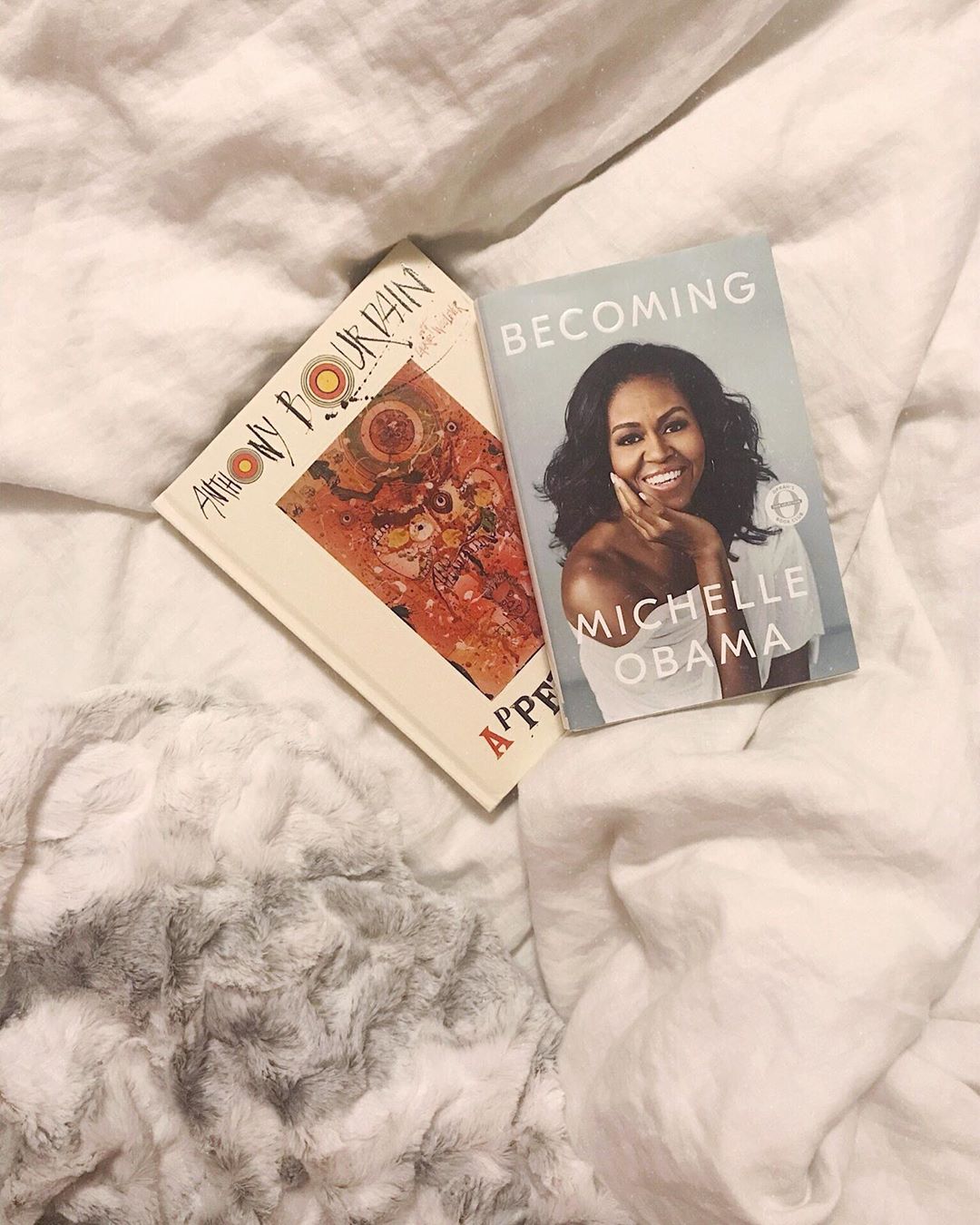 Winter is quite an odd season. Not only does it feel like the longest season of them all, it seals the end and beginning of a calendar year. So is this winter 2019 or winter 2018? For the sake of staying current with the new year I'll call it 2019. Winter started off as a blast for me, I created a "Christmas Bucket List" with 25 of my must-do items, including laying on freezing pavement to watch a meteor shower, visiting and muching on a pretzel at a German Kristkindlmarkt, and holding hands with someone special at a local "Walk of Lights."
Here are a few of the other things I really loved during this winter season:
Food
French Ham and Cheese
This sounds like an odd one, but when I was in Paris last September I had the simplest ham and swiss sandwich on a baguette. Instead of mayo, the bread was heaping with butter. Top that off with a glass bottle of Coca Cola Light, and you're living the Parisian dream baby!
Fancy Yogurts
Another thing I picked up and ran with from the French. Thick, custardy yogurt in artisinal containers. The most accessible of these is Oui by Yoplait (which comes in a glass jar, perfect for those of us that despise plastic with a passion), but my favorite is La Fermiere, which comes in an enameled terra cotta pot. Sooo cute, and I've even repurposed these as planters.
Dutch Baby
A big fluffy pancake baked in a cast iron skillet, need I say more?
Shabu-shabu
I've known about hot pot for a few years now, but I've recently found a place near me that does it best. The best way I can describe it is think the melting pot, but broth instead of fondue. You cook your own meat and vegetables, and end up with a delicious soup. I'm particularly fond of the seafood variety. Definitely recommend checking it out if you have a shabu place near you!

Imperfect Produce
I signed up for Imperfect Produce on a whim in January, as I'd heard so much about it on podcasts and online. The idea is that once a week or so (I'm set for every 2 weeks) you receive a shipment of "ugly" fruits and vegetables at a discounted price. This saves food waste and keeps costs down for your groceries! So far I am really impressed, especially that the produce comes with far less packaging than is typically at the grocery store. One cardboard box is pretty much it! Try it out at discount with my referral link here!
Beauty
Ole Henricksen Truth Serum
This stuff has been on my face every single day since I bought it. I use it in the morning under my moisturizer and sunscreen, and I am definitely feeling the glow. It's a bit pricey on it's own, but you can save some major coin if you buy it in a set!
Sunday Riley Luna Sleeping Face Oil
I've affectionately named this stuff my "swamp water" as it's got a blue-green tint and smells very… herbal. Definitely not for the uber smell-sensitive, but this stuff brings RESULTS. It piqued my interest when I started researching retinol serums that wouldn't burn my face off. So far, I've noticed my acne scarring begin to hit the road, and I could not be more happy about that.
Drunk Elephant Protini Polypeptide Cream
I discovered this glorious cream when I was looking for a moisturizer that wasn't super thick for daytime. I'm prone to getting milia under my eyes (yuck) so something light was definitely in order to sit on my skin day-to day. I've really been enjoying this stuff as it's more of a gel texture and doesn't feel gloopy when I apply it. Definitely recommend.
Books
Becoming by Michelle Obama
Goodness, what's not to love about Michelle Obama? This book had me in tears almost immediately. She is such a kind, graceful, and elegant woman. This book challenges, educates, and inspires. A must read for literally any human being on earth.
Feminasty by Erin Gibson
This book also had me in stitches, in more than one way. So witty and hilarious, but Erin Gibson also cuts to the core of so many important issues. I even managed to score a signed copy when she was in DC in the fall, and I will cherish it for years to come.
Wild by Sheryl Strayed
I haven't officially finished Wild yet, but it was a book club challenge for my best friend Emily and I to finish by the end of April. I read Eat, Pray, Love at the end of 2018 and this was the next logical step in the "woman sets out to find herself" book genre. So far I really enjoy Sheryl's voice and her dedication to hiking the PCT. I look forward to sitting down with a big glass of wine and watching the movie after I finish this book!
Appetites by Anthony Bourdain
This book was a Christmas gift from my lovely friend Liz, and I love that this book is infused with Anthony's spirit, all the recipes I've tried have been so delicious. I'm very glad I own this cookbook, as Anthony Bourdain was always one of my favorites.
Podcasts
Las Culturistas
Oh my goodness, if you haven't listened to this podcast yet, get on it! Matt Rogers and Bowen Yang are my favorite male comedy duo, and if you don't laugh at "I don't think so honey" we can't be friends! Definitely give this pod a listen ASAP!
Seek Treatment
Seek Treat is basically the podcast that comprises my inner monologue. For those that aren't "hip" to this kind of humor could find it a little brash or annoying, but if you realize it's all in jest, Cat and Pat will become your virtual best friends. If you aren't listening, Seek Treatment!
Goop Yourself
This podcast is everything I've ever wanted in a podcast. Think down-to-earth people loving-to-hate the uberwealthy likes of Gwenyth Paltrow and her posse. Can't afford $600 linen pants, but kinda wish you could, even though they're ugly? This pod is a goldmine.
Music
Kacy Musgraves
I'm sure everyone has heard of Kacy by now, but to me she's Katy Perry meets Reba McEntire – which is a lovely combination. Her songs are cool, fun, and cutesy, but she definitely packs a punch. I love her on-stage looks, and basically her whole vibe. I mean "mind your own biscuits and life will be gravy?!" c'mon genius!
Dolly Parton
Not a spotify playlist goes by without a song from Dolly. I've idolized her since I was a little girl, and the second she goes on tour I am snapping up tickets no matter the price. Dolly Parton is a national treasure.
Ariana Grande
I started listening to Ariana Grande as kind of a guilty pleasure, but now I genuinely enjoy her as an artist and a person. I am definitely rooting for her in all she does. Plus, she sampled *NSYNC in one of her most recent songs, and *NSYNC is one quiiick way to get straight to my heart.
Shows
Pen15
This show is not for the faint of heart. It was a real cringefest, but it was the most accurate depiction of middle school life that I have ever seen. My roommate and I still giggle about the thong pantsing scene. It's on Hulu, go watch it immediately.
Real Housewives of New York
I can't believe it's taken me this long to get into the RHONY franchise. I've seen the New Jersey Housewives here and there (and they're an amazing mess) but I'm really into watching these ladies. It's really a great reminder that money can't buy you class…
Sex and the City
I started watching SATC from the very beginning – something I've never done, since I noticed it was free with Amazon Prime. I'm thinking of doing a "Millennial Reviews SATC series" here… would any of you be interested in that?
Movies
The Favourite
This was probably the best movie I saw in theaters this Oscar season. Emma Stone killed it.
Mary Queen of Scots
Margot Robbie and Saoirse Ronan definitely delivered in this one. Anything royal themed, I'm down for it!
Abducted in Plain Sight
I watched this on Netflix and the entire time my jaw was on the floor. Words cannot even describe the number of emotions I felt while watching this.
What are you loving lately? Let me know in the comments below!