It's been 4 years since I made the decision to only support cruelty free beauty and skincare brands. Since then, I've developed many favorites, lost a few favorite brands to shady practices – looking at you NARS! and learned that even though it takes a bit of research from time to time, going cruelty free is not hard, there are so many amazing products out there, and you can get glam AF without any animal testing.
Eyeshadow
Anastasia Beverly Hills single shadows – my favorites are buon fresco and pink champagne
As far as palettes go, I've really been loving the Tarte Toasted lately, but my all time favorite is the Urban Decay Naked2.
Mascara
One thing I go back and forth on a lot is my mascara. I've got a few on rotation currently. My favorites from recent history are the Pacifica Dream Big mascara, the It Cosmetics Superhero, Urban Decay Perversion, and the Smashbox Full Exposure mascara.
Foundation
I'm not a big foundation person – I prefer lighter coverage, so my normal "foundation" is a BB cream. My favorite is the bareMinerals Complexion Rescue Tinted Hydrating Gel Cream.
Eyeliner
Kat Von D Tattoo Liner in brown when I want a sharp winged look – I find brown is more flattering to my skin tone and eyes than a stark black.
When I want a little smudgey look going on – less fuss! – something I've been reaching for lately is the Stila Smudge Kajal Eyeliner.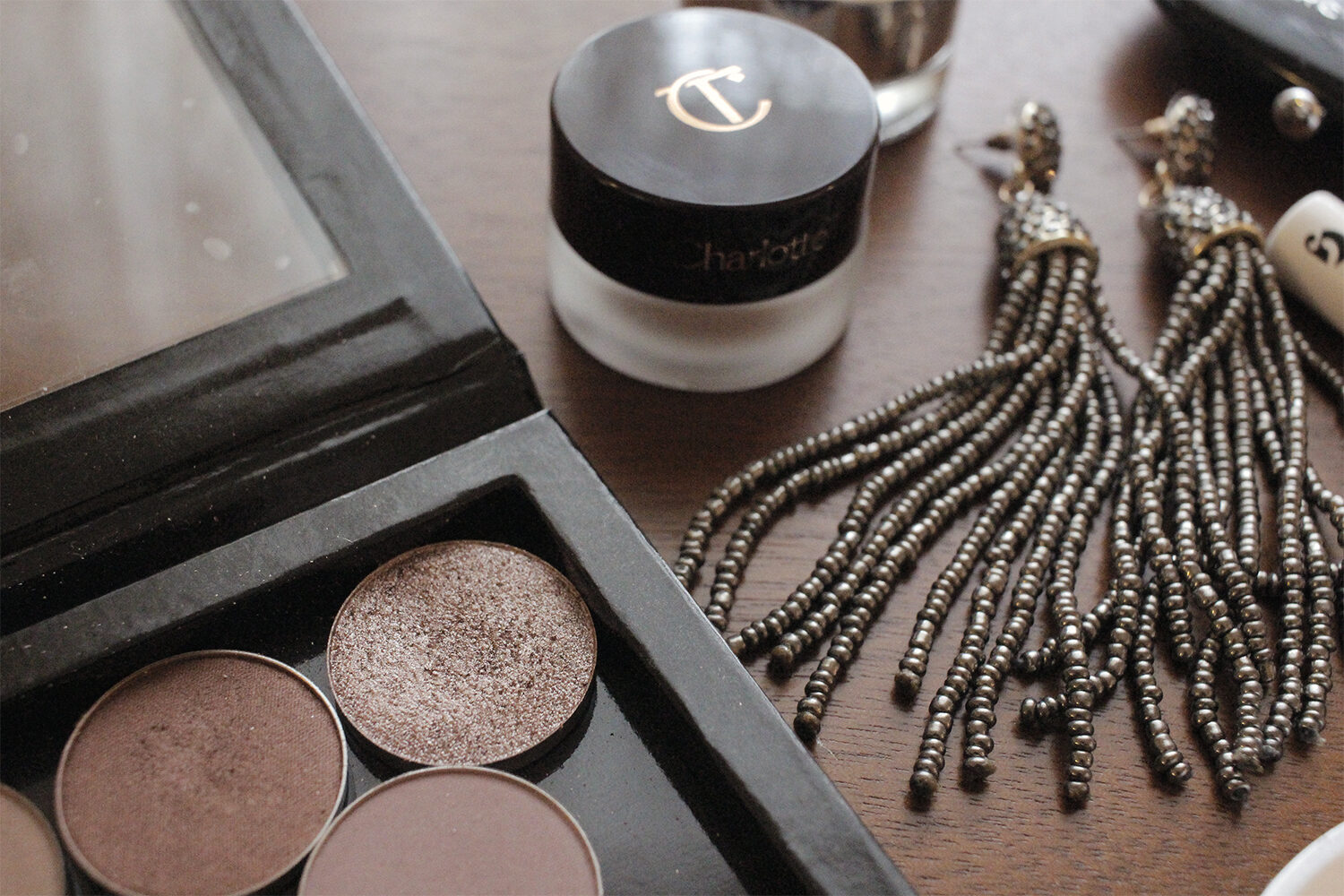 Concealer
Glossier's Stretch Concealer has been a long standing favorite. It's light enough to where I don't feel like I have a mask on, and it blends well into my foundation without any issues.
Blush
My favorite blush used to be by Nars, but recently I've moved on to the Becca x Chrissy Tiegen palette. There's also a huge soft spot in my heart for Glossier's Cloud Paint in Dawn.
Bronzer
Physicians Formula Butter Bronzer in Light is my favorite for a subtle glow. This is pretty much the extent of the contour I do, focusing the bronzer around the hollows of my cheeks, my forehead, temples, and jaw line.
Highlight
Becca Moonstone with honorable mention for TheBalm's Mary Lou Manizer. I'm drawn to a slightly gold highlight, but I want to try some pinky ones moving forward.
Brows
For yeeears I was obsessed with Anastasia Beverly Hills Brow Wiz, but recently I've moved on to It Cosmetics Brow Power – the spoolie is so much nicer and I find that my brows just look more polished without the need for more precision. I top that off with Glossier Boy Brow in clear.
Lipstick
Lipstick is the HARDEST category to pick from. The perfect red? I have so many! It's my blog's namesake for crying out loud. So I've picked a few.
The perfect pink – Lorac Pro Matte Lip Color in Mauve
My Every Day Lip (the lipstick I have repurchased the most) – Lolita by Kat Von D
A Bright and Fun Lip – The Queen by Charlotte Tilbury
My Most Obsessed-over Red – So Marilyn by Charlotte Tilbury
What are your all time favorite beauty products?