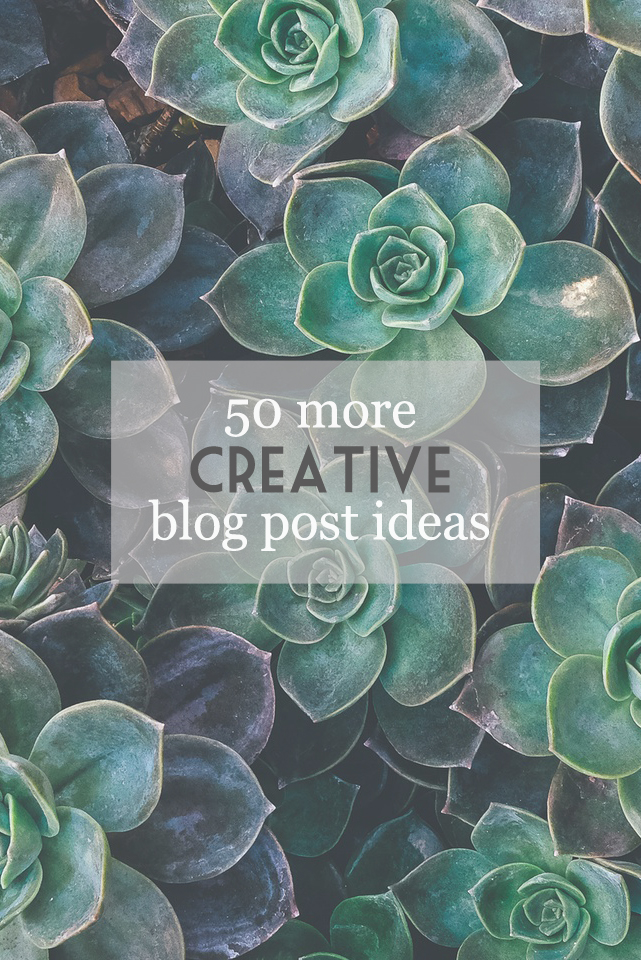 It's been over a year since I wrote a list of blog post ideas, and I figured it was time to put out another one. I'd love to know if you use any of the ideas on this list, so please feel free to share your posts in the comments below!
1. Share your 5 favorite twitter accounts.
2. Go on a day trip, do some exploring, and post about your experience.
3. Film a tutorial based on your blog's niche.
4. Have any blogging secrets? Spill the beans!
5. Share your seasonal wardrobe favorites.
6. Share the post ideas you decided not to post about.
7. Write about your blogging fears.
8. If you had to eat a particular food for the rest of your life, what would you pick?
9. Share the things you'll always splurge on.
10. Or, the things you refuse to spend money on.
11. Tell a story about the strange things you believed when you were a kid.
12. Facts can get boring. Tell 5 lies about yourself.
13. Are you an outfit repeater? Why or why not? Share your repeated outfits.
14. Paint something and share it with your readers.
15. If you were to pack up and move right now, where would you go?
16. Write a post entirely in haiku.
17. What would you change about social media?
18. Style one clothing item in 5 different ways.
19. Share your go-to dinner party recipes.
20. Write a six word story.
21. Share your favorite books.
22. Share your favorite movies of a certain genre, or featuring a certain actor.
23. Write a post that scares you.
24. Compile a list of your favorite words, along with their definitions.
25. Challenge yourself to do something or stop doing something for a month. Write about the journey.
26. Create outfits based on movies, TV shows, or music videos.
27. Film or photograph a tutorial for your every-day makeup look.
28. Bake something you've never made before. Post your success or failure story.
29. Write a list about your quirks and peculiarities.
30. Play never have I ever. See if your readers have done some of the things you haven't!
31. Try karaoke, stand up comedy, or something else that will get you out of your comfort zone. Tell about the experience!
32. Make a bucket list for the next week, month, and year of your life.
33. Share stories about some sentimental items you own.
34. What trivial things are you passionate about?
35. Share photos of your favorite place on earth.
36. Look up zodiac compatibility between you and your significant other. What do the stars say? Do you think it's true?
37. What's your relaxation routine?
38. Tell about a nickname you've been given.
39. Share your favorite cocktail recipe.
40. Make up your own holiday and celebrate it! Invite others to join in.
41. Give your readers a survey and learn about what they love about your blog!
42. Share a photo-a-day post from this week.
43. What have you overcome? Share tips for someone who's going through the same thing.
44. Share tips for getting your blog noticed.
45. Compile a list of fonts that are great for blogging.
46. Share your photo editing tips.
47. Write the first chapter of your life story.
48. Have another blogger write a post about you. See what they come up with!
49. What is your mantra?
50. Post a "day in the life" in GIFs.
♥
What's your next post going to be about?