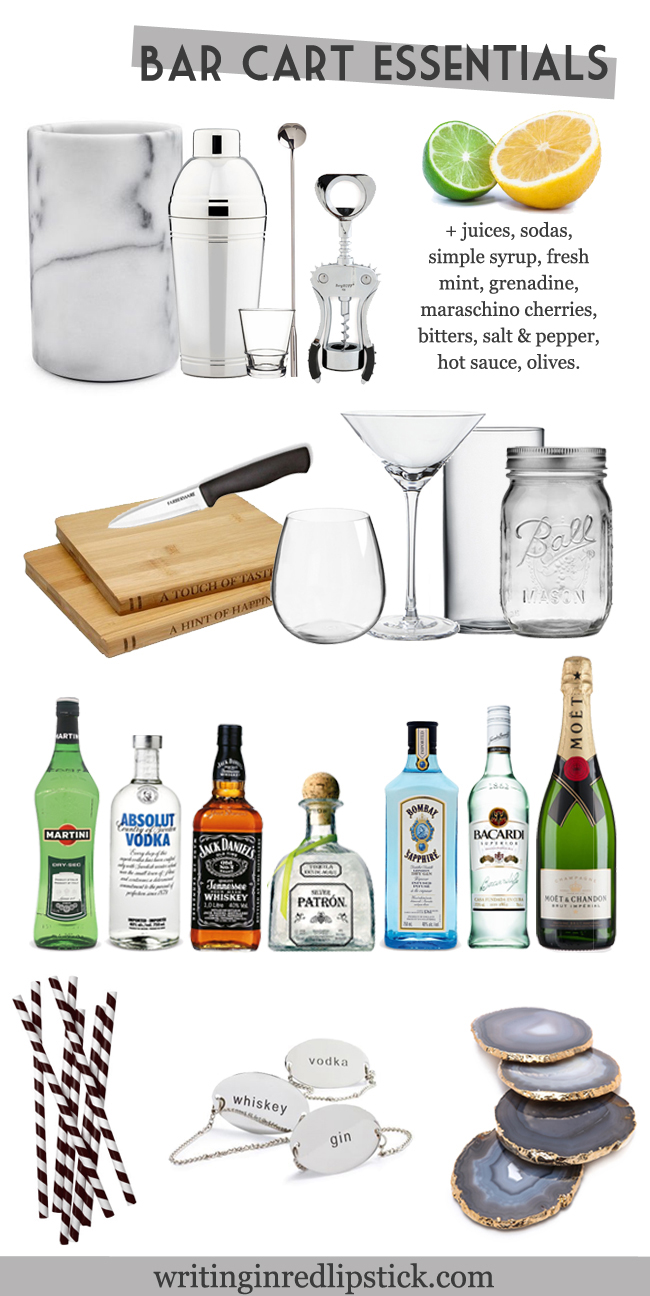 It seems like these days, everyone and their mother has a bar cart. Instagram, Pinterest, everywhere you look, bar carts big and bar carts small. Bar carts in the living room and down the hall. It's like a boozy Dr. Seuss story. Long gone are the days of the locked liquor cabinet, our alchie is on parade in this day and age, and I couldn't be more excited about it.
Ever since I could remember, I've been a sucker for pretty bottles. To me, a trip to the liquor store is like walking through an art museum. Don't even get me started on novelties like Crystal Head Vodka and that glitter galaxy Viniq stuff. The liquor store is just plain cool. I don't even have to buy anything. I just love to look around!
That being said, I've decided it's time to start putting together a bar cart for myself. I love the idea of creating new cocktails, or even just trying out all the classics one by one. Having a bar on hand will give me the opportunity to get creative with drinks, and it will turn Bob's Burgers marathons with my friends into festive occasions. Even if they are just normal Wednesday nights! You know what they say, It's always five o'clock somewhere.
After doing some research (and some online shopping) I boiled it all down to the essentials of a fully-stocked mini bar. Lime wedges and all. I've linked the items I featured in the photo above. Most are under $20.
Home Bar Essentials:
Well, first you'll need a bar cart, a cabinet, or another surface you'd like to use as bar storage.
The Spirits:

Vodka
Gin
Rum (light)
Rum (dark)
Tequila
Bourbon
Whiskey
Vermouth
Triple Sec
Champagne, Prosecco, or Cava
Novelties of choice like Kahlúa, Baileys, Moonshine, etc.
Mixers:

Fruit Juice (cranberry, pineapple, etc)
Colas (Coke, Pepsi, Sprite, etc.)
Club Soda, Seltzer, or Sparkling Water (is there a difference?)
Tomato juice
Clam Juice
Lime cordial
Pre-packaged mixers
Coconut cream
Grenadine
Simple syrup
Garnish:

Coarse salt
Pepper
Fresh mint
Lemons
Limes
Maraschino cherries
Any other fruit you like
Celery
Olives
Cocktail onions
Fun Stuff:

Floral arrangements
Art
Instax camera to capture the moments
Lots and lots of snacks
Friends
And that's it! You can add or subtract anything you'd like from your own personal bar. The only thing that matters is that you have fun with it.
If you have a home bar, a bar cart, or something similar (or are planning one), tweet me a photo! I'd love to see what you've come up with!
♥
What are you drinking lately?
♥