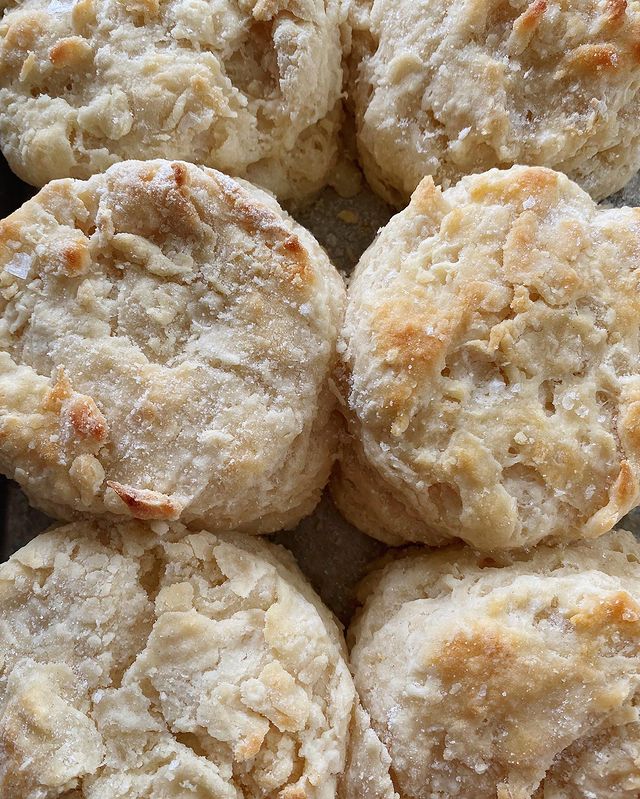 My great grandma made the world's best buttermilk biscuits. This is something my mom and I talk about often. Any time someone brings grandma up, it's not long before someone mentions that she would never let anyone in the house go hungry for even a minute. I remember visiting her as a child and practically every meal was accompanied by a big white fluffy biscuit.
About two years ago, I decided to take on the task of learning to perfect the biscuit myself. I tried every recipe known to man – sour cream, crisco, cake flour, but it was ultimately the most simple combination of ingredients that won. Although I never got the chance to learn my great grandmother's actual recipe, I do know she always used White Lily flour, a brand known far and wide in the south as the best, if not the only flour for making biscuits.
I'm not positive if White Lily is sold everywhere (I think it is regional) but do take a look at your grocery store and you might just find it!
To make these super simple delicious biscuits that would make any southern granny proud – all you need is:
2 cups self-rising flour (preferably White Lily)
1 stick salted butter (frozen)
1 cup buttermilk (cold)
1 tbsp sugar or honey
A pinch of salt

Preheat your oven to 425°F and add flour to a large mixing bowl, mix in the sugar (or honey) and salt. Carefully grate butter with a cheese grater or chop into small cubes. Grating the butter onto wax paper prevents it from sticking to a plate, or which ever surface you're grating onto.
Stir butter into your flour mixture until butter is well coated in flour. Add in the buttermilk and stir until just combined, no more than 15 times. This sounds like an arbitrary number, but it keeps you honest and prevents you from over mixing. The dough will appear sticky and lumpy.
To form the biscuits, flour a clean surface and pat or roll out dough into a rectangle. Fold the dough in on itself about 5 times, alternating folds length and widthwise, patting or rolling flat in between. This folding will create flaky layers and help the biscuits rise.
Using a biscuit cutter, bench scraper, or jar, cut your biscuits into the desired size and shape. Apply a light layer of cooking spray to a sheet tray, and add the biscuits gently. The biscuits should be touching slightly as this helps them rise. Bake for 12-15 mins or until golden.
For extra flavor, lightly brush the tops of the biscuits with buttermilk before baking. You could also add melted butter and a sprinkle of salt. At higher elevations, this recipe may take longer to bake.
Serve warm with sausage gravy, jam, apple butter, or all three.
Enjoy!
If you try these, report back in the comments, I'd love to hear your review!