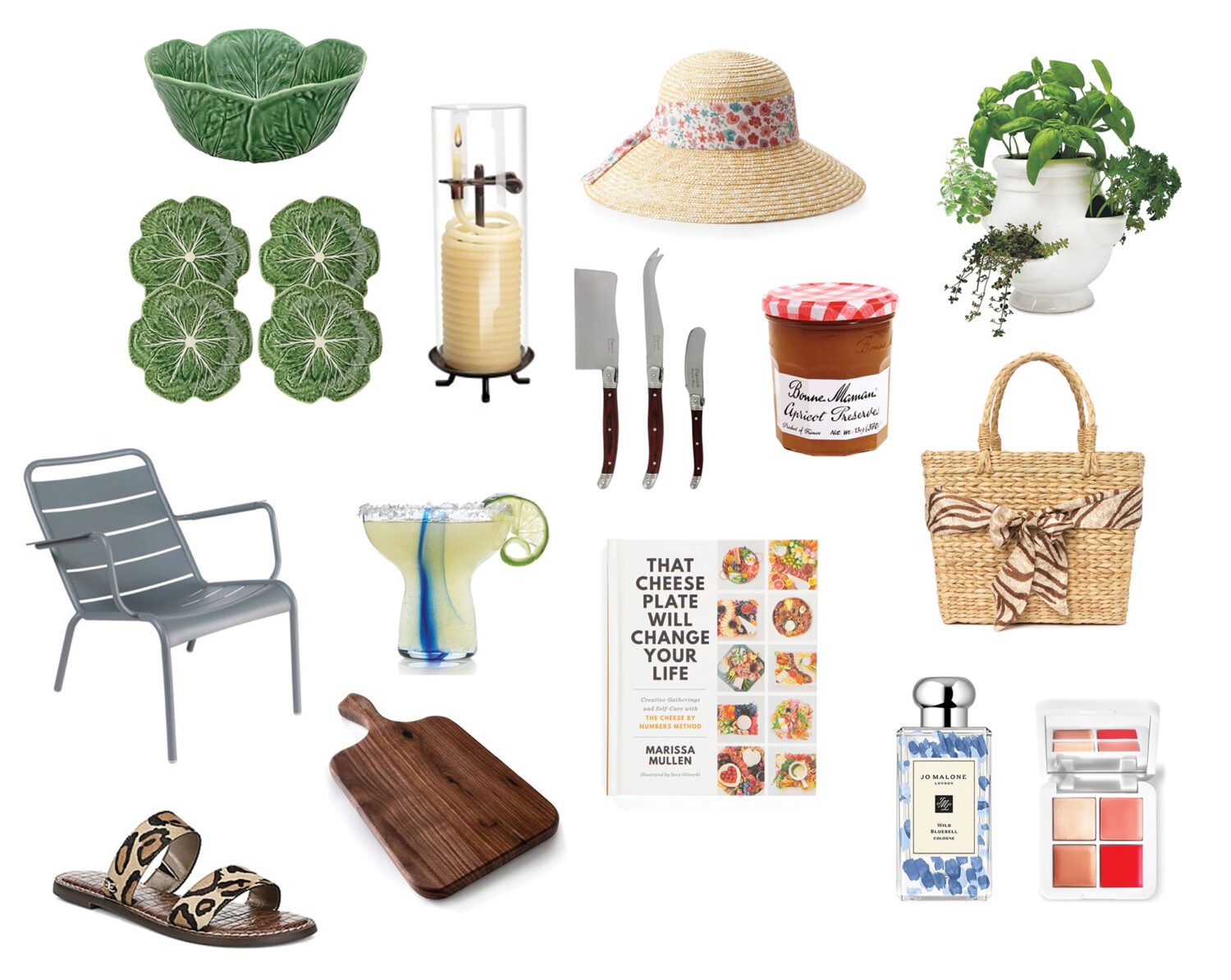 Hello there my Pfizer peeps and Moderna mob, it's time to get outside! Time to enjoy some of this nice spring weather. Hang out masked at the farmer's market, host a small picnic in the park with vaccinated friends, sip wine on your porch, plant some fresh herbs or flowers, and catch up responsibly with those we've been missing so much the past year! I wanted to make a gift guide of things that would be perfect for those spring and summer get togethers, be it a cookout or a housewarming, a birthday or graduation! There's a little something for everyone.
Cabbage Salad Bowl and Cabbage Dinner Plates – This set just screams spring tea party to me. I picture it almost like a scene from Peter Rabbit or another children's book, little cucumber sandwiches, and tiny pink petit fours.
Candle by the Hour Citronella – I love the outdoors, and especially hanging out on a patio but it seems like bugs love me even more than I love being outside – especially the ones that bite! Citronella, bug spray, and all the other anti-creepy-crawly trappings are the ultimate necessity.
Lauren Conrad Cloche Hat – There's nothing better than a big straw hat on a bright and sunny trip to the Farmers Market!
Wind and Weather Grow Your Own Herbs Kit – One of the best thing about spring is the fresh herbs, and the best thing about fresh herbs is that you can grow them in practically any environment! Whether you're in an apartment with a balcony, growing them with a hydroponics kit on your counter, or have a large and spacious garden, you can grow herbs easily and efficiently. There's nothing like fresh dill on buttery salmon, aromatic basil in a fresh caprese salad, or a sprig or two of cilantro in your homemade tacos. An established plant would make a wonderful housewarming gift!
Laguiole Pakkawood Cheese Knife Set – A few different varieties of cheese and a wooden cutting board starts to feel fancy when you add fruits, meats, and some fun knives and spreaders.
Bonne Maman Apricot Preserve – I think I've talked about Bonne Maman preserves so many times on this blog that my readers may be starting to roll their eyes, but there is SO much to love! If you haven't tried their stuff, do so on your next grocery trip and you will be a believer!
Fermob Luxembourg Low Chair – I fell in love with these chairs when my friend Sabrina and I went to the Jardin du Luxembourg on my trip to Germany and France in 2018. These same chairs are littered all around the parks in Paris, and have achieved icon status as they're instantly recognizable. You'd never guess by looking at them, but they're surprisingly comfortable! Sabrina and I spent multiple hours lounging in these chairs, people watching and taking in the beautiful scenery. They ARE available in the US, but the price tag is gagworthy. I'm working on my own dupe of these chairs from Target, and my post about that will be up soon!
Libbey Blue Ribbon Stemless Margarita Glasses – Margaritas, need I say more?
That Cheese Plate Will Change Your Life by Marissa Mullen – This book has so many fun twists on the classic charcuterie board. To go along with those cheese knives maybe? 😉
Twig & Arrow Straw Scarf Tote Bag – A straw bag is a must have for the farmers market or the beach.
Sam Edelman Gala Slide Sandals – Like the jam, I've talked about these sandals for years on end. I'm currently on my 4th pair. They're so comfortable, last a long time, and work just as well with a dress as they do with shorts or a bathing suit. One of my ultimate summer staples, and they come in a ton of colors!
Brazos Organic Wood Cutting Board – We already have the knives and the book, now you need a board for plating!
Jo Malone Wild Bluebell Cologne – This is the quintessential spring fragrance. Light, floral, sophisticated. Bluebell is unique enough to stand out but isn't cloying or grandmotherly.
RMS Beauty Lip2Cheek Glow Mini Quad – RMS is one of my favorite beauty companies of the moment. Their blushes are so creamy and subtle but buildable, and their concealers melt into the skin like they're just a part of you. RMS is the go to for that natural, effortless finish. Their living luminizer is also one of my all time favorites!
What is your perfect picnic spread?