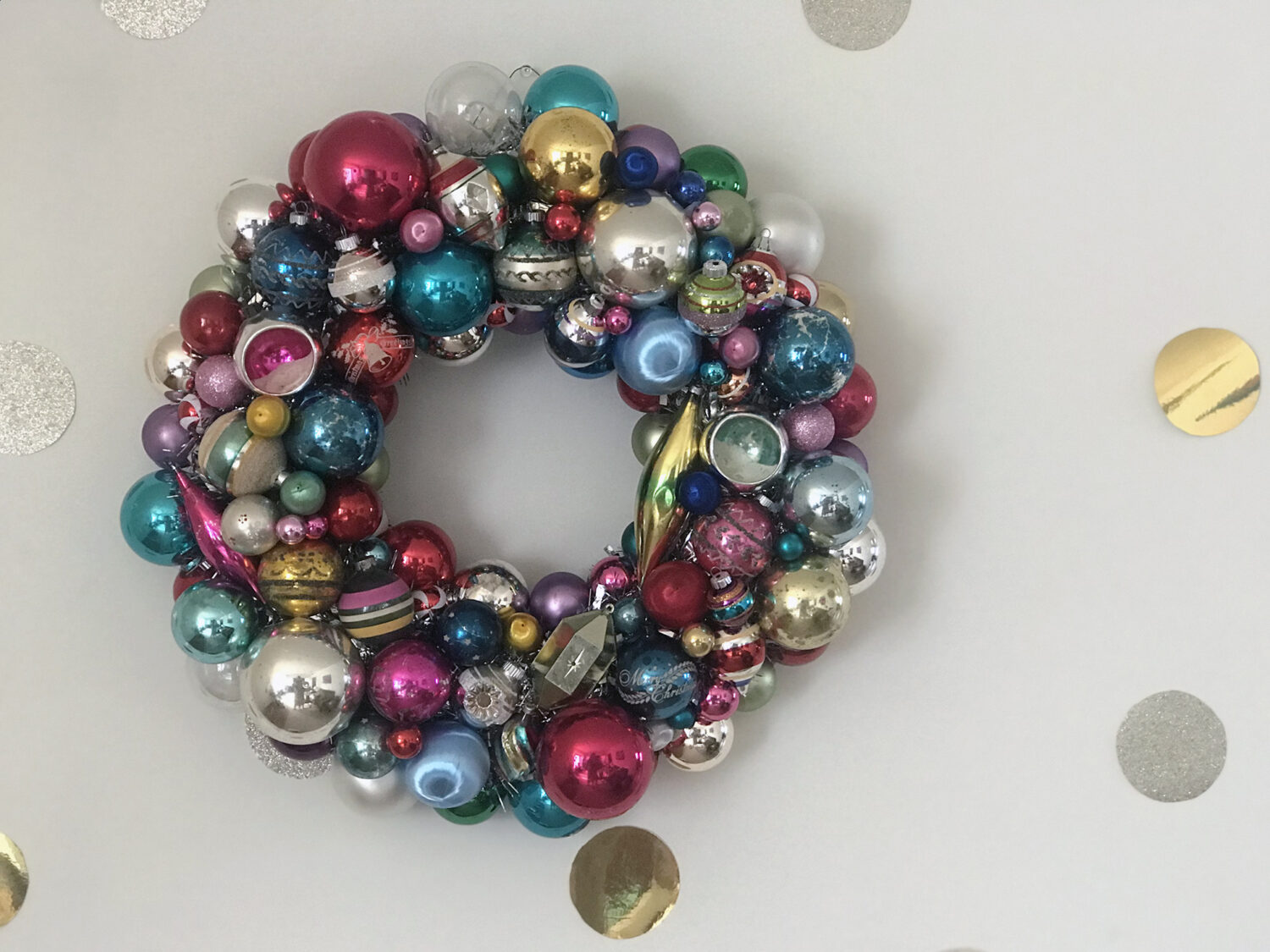 Last year I spent a month bent over my dining room table painstakingly organizing Christmas ornaments on top of a styrofoam wreath form. I'd recently inherited a box of baubles from my grandmother – most of which had hung on her tree every year for decades. A lot of the ornaments were chipped, and had the grey patina of years gone by. I had visions of a beautiful, colorful, ornament wreath – similar to those I'd seen on Etsy priced into the high hundreds.
I started with an 11-inch wreath frame and some silver acrylic tinsel. I had close to 50 vintage ornaments (save for the really special ones I kept to hang on my own tree) but it soon became clear to me that I would need more ornaments to completely fill out the face of the wreath. So I hit the thrift store. With about $40 in materials, I was ready to get started.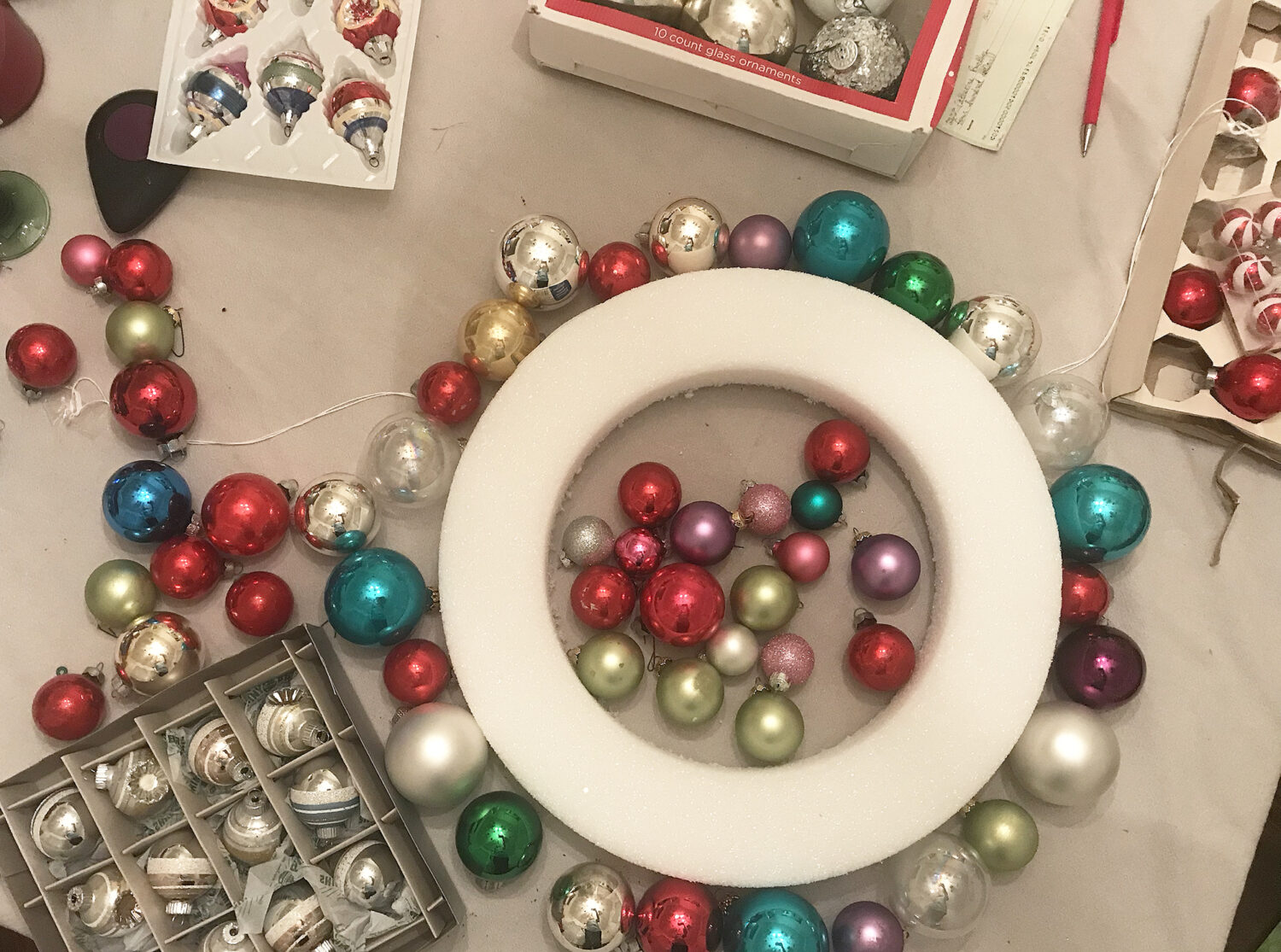 Before making any decisions with hot glue, and after consulting Martha Stewart, I laid out my thrifted ornaments to decide the volume I would need to cover the perimeter of the cylinder.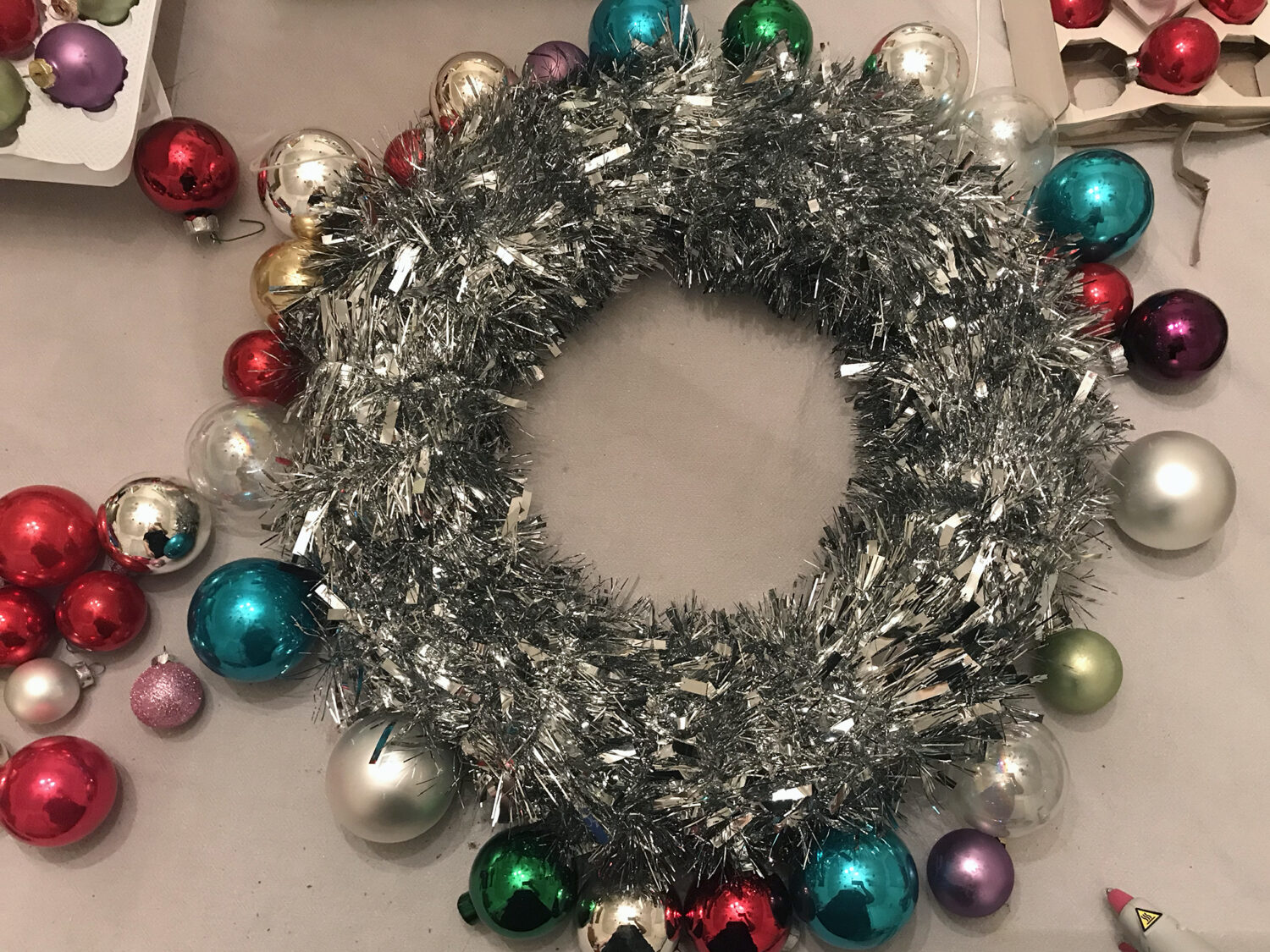 Then I wrapped the wreath frame with the tinsel and hot glued it as I went. When all was said and done, I used about 45 feet of tinsel and 200 ornaments of all different sizes.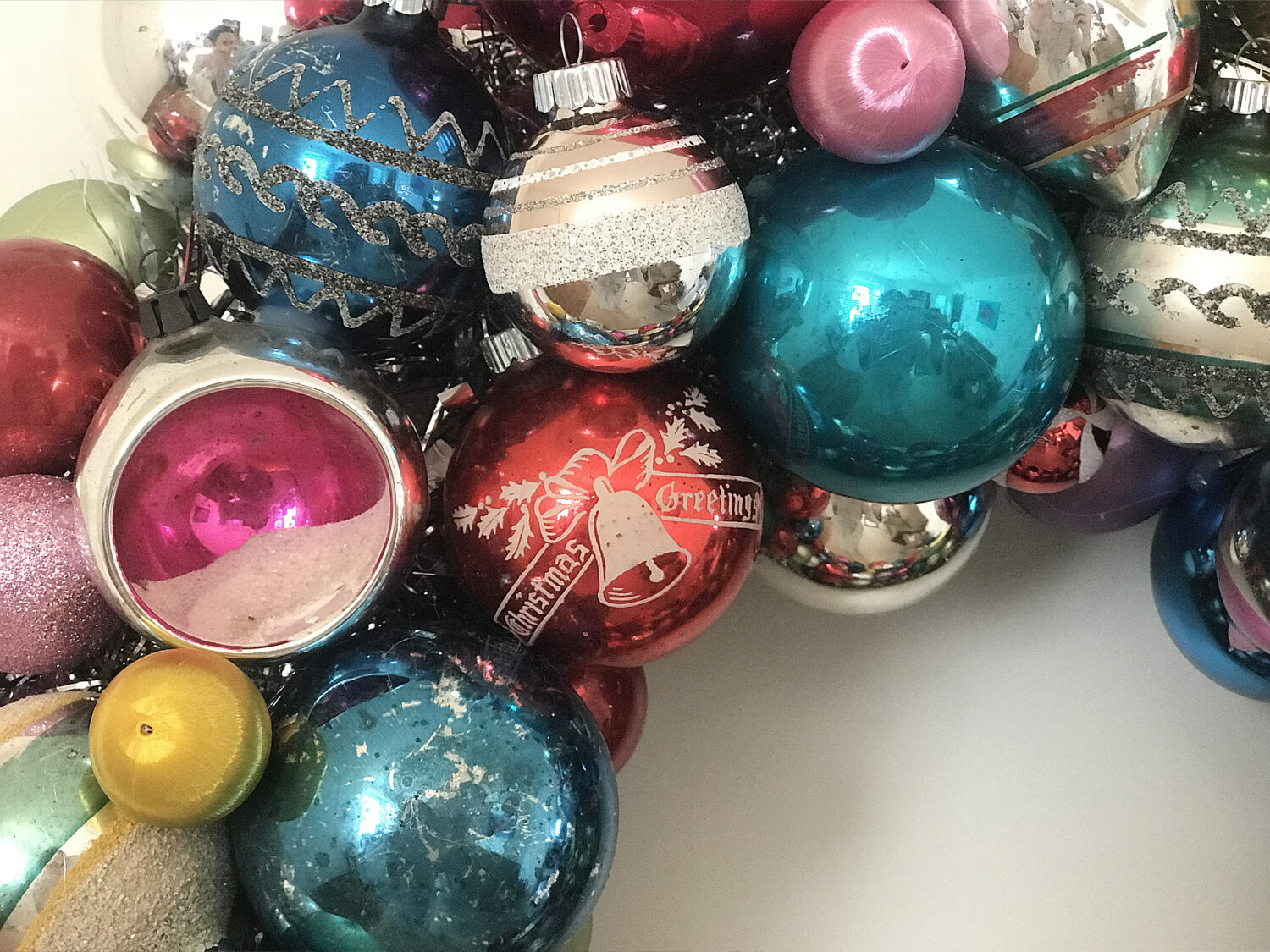 Although it would only realistically take a few days to complete a wreath like this, it took me about 3 weeks to finally decide to glue down all the ornaments. I wanted each of my grandma's ornaments to stand out amongst the filler, and even though there are a ton pieced together, I can point out each one clearly.
If you'd like to make one of these on your own, here are my tips:
Wrap wire around the wreath for hanging BEFORE you begin to add ornaments.
Buy more supplies than you think you'll need. This includes tinsel, ornaments, AND hot glue sticks.
Feel free to cheap out on the tinsel, you won't be seeing that much of it after the ornaments are down. The real purpose is for your ornaments to stick to something. I used silver, but gold or iridescent tinsel would be super cool too!
It's easier to glue the ornaments down if you remove the top part that it would traditionally hang from.
Don't be afraid to over-glue. More glue is usually better.
I prefer glass ornaments, but the benefits of acrylic ones are definitely real. You won't have to be as precious with them. I would definitely recommend plastic ornaments (or at least cheap glass ones) to a family with children or rambunctious pets.
If you use glass ornaments, don't hang this wreath on your door. Unless you like to tempt fate.
The more sizes, colors, and textures, the better!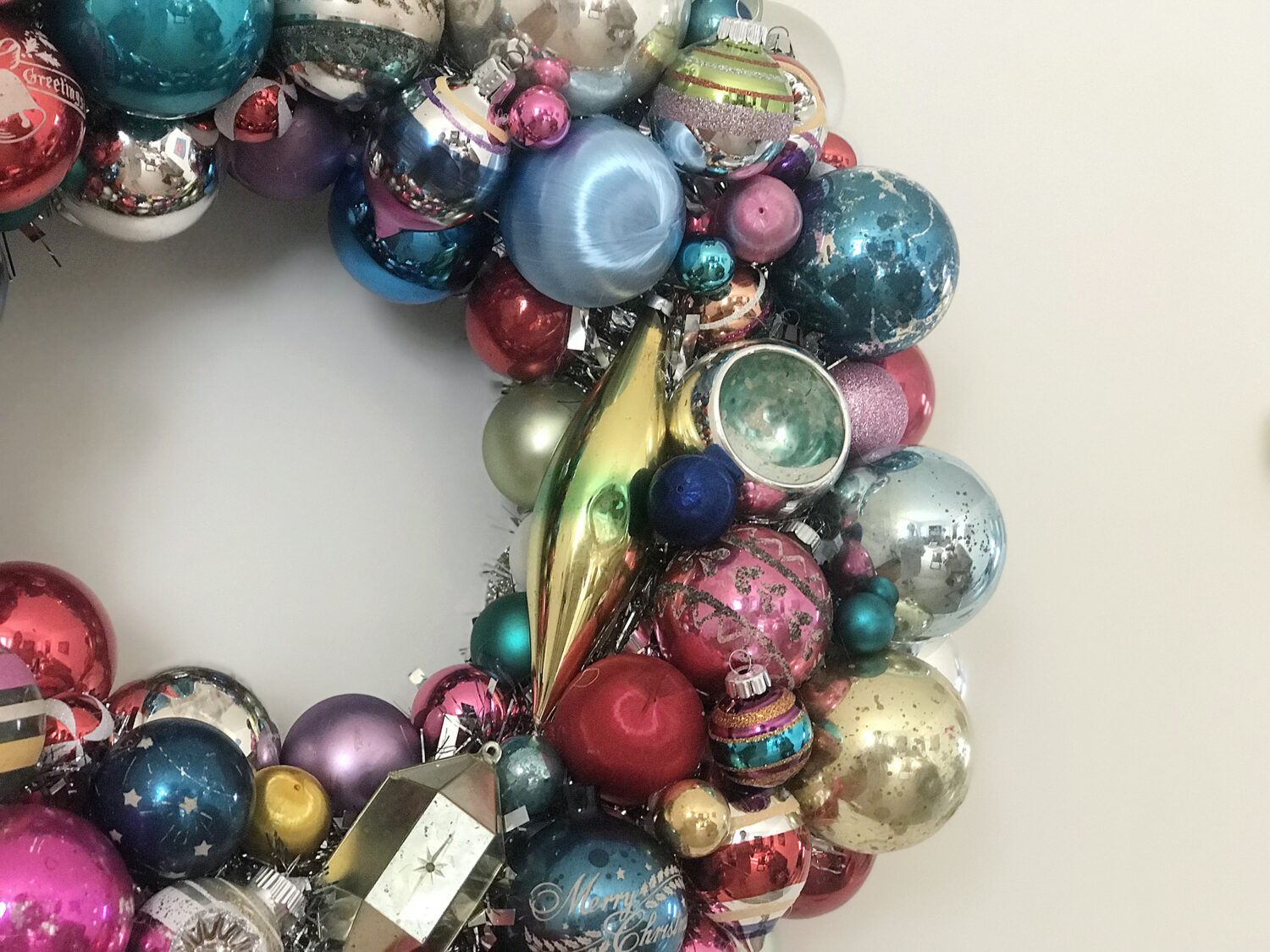 I think my favorite detail is the dual-toned green drop ornament with the little indent in it. One of the best parts of the wreath is that it's a conversation piece and an heirloom, and no matter how many times you look at it, you'll see something new.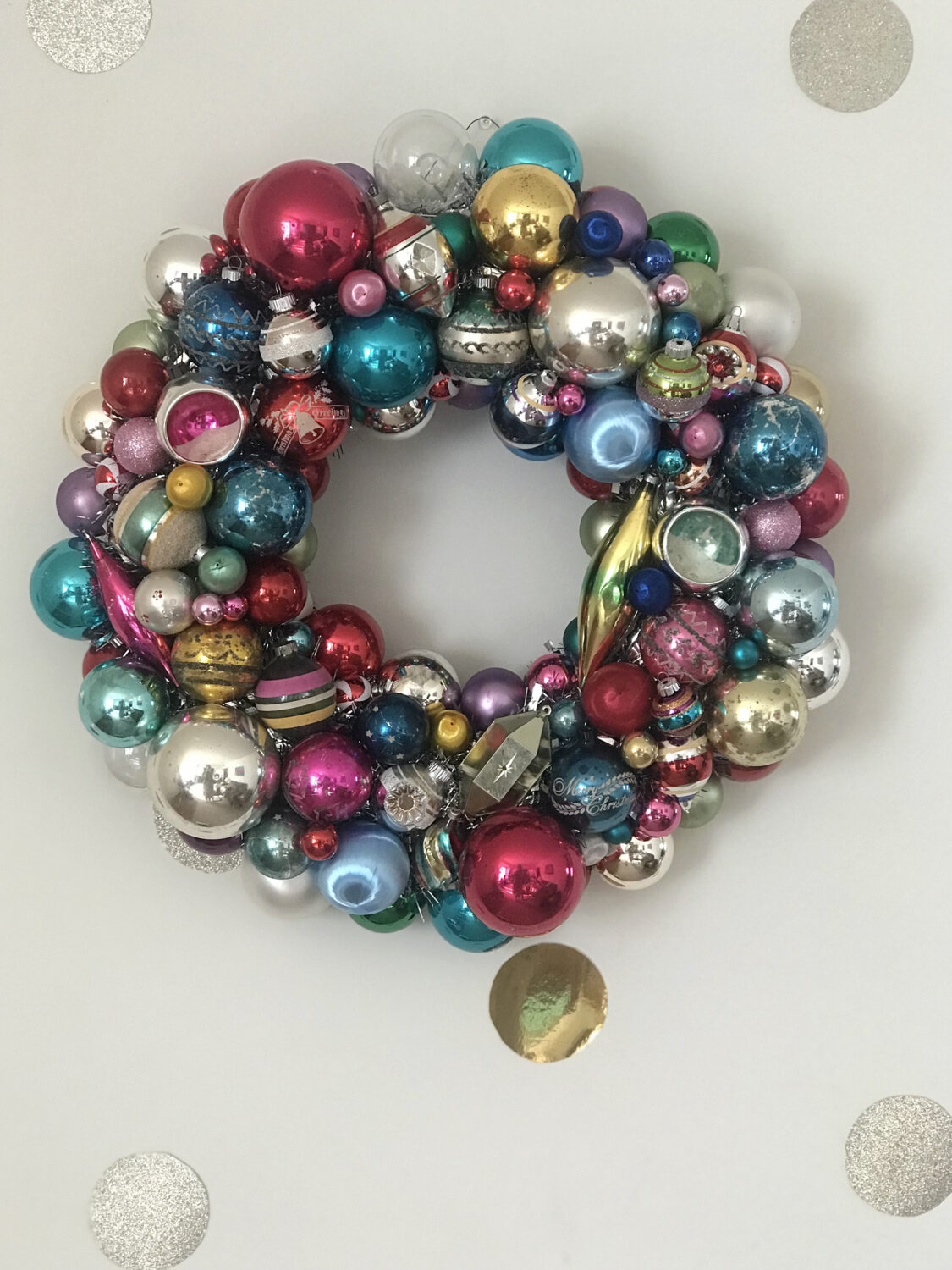 Do you have any holiday heirlooms?
Let me know your favorite holiday memories in the comments!