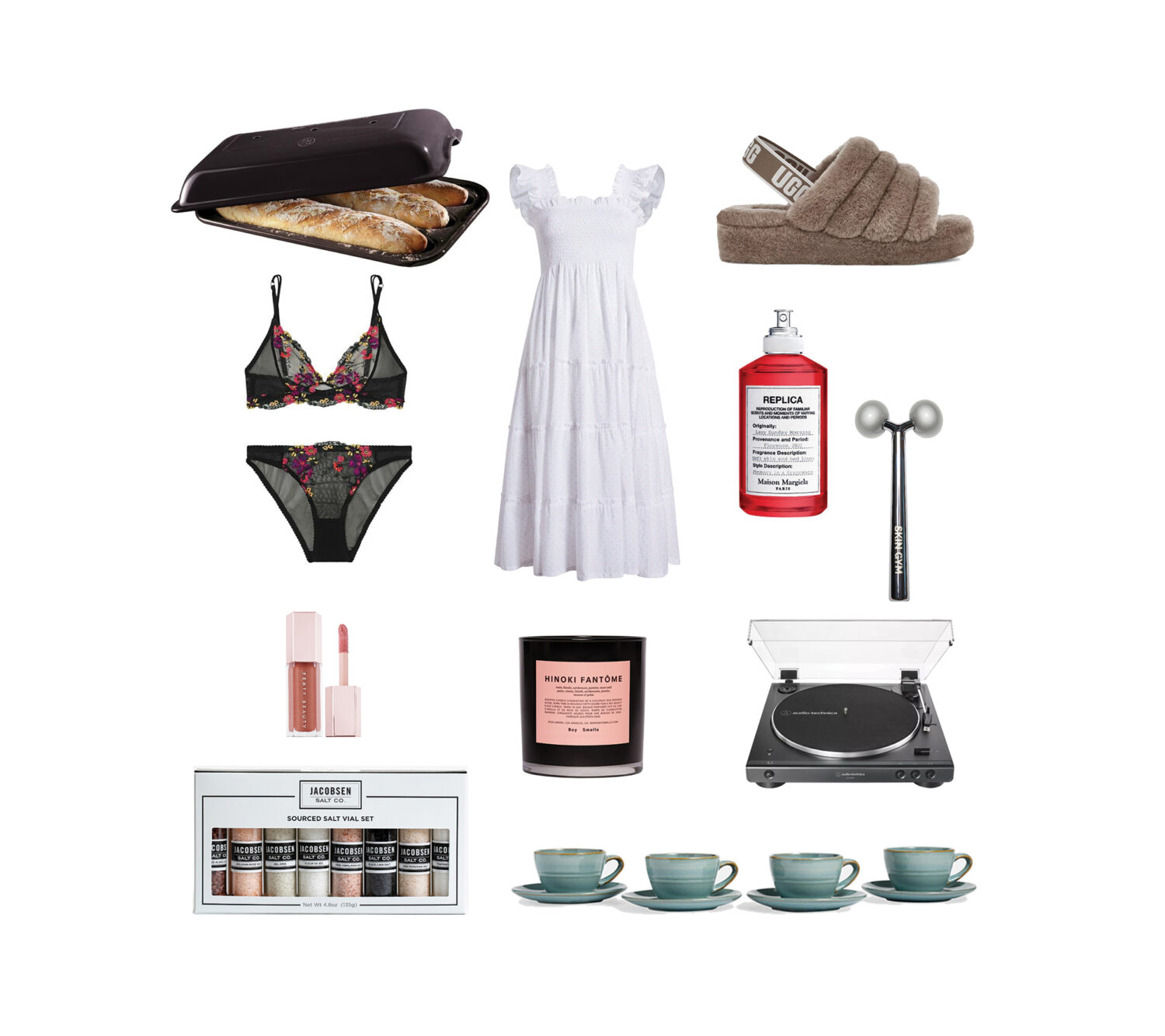 It's Valentine's Week! I say that because I'm posting this on the 13th, but honestly every day should be Valentine's Day – because what's not to love about giving yourself and those around you a little extra TLC on the regular?
These items are a mix of my personal favorites, things I've had on a list of items to snag for myself, and things that fall into the "gifts they'd love but wouldn't think to buy themselves" category. I've also included a list of TV shows, movies, and recipes that would be perfect for a virtual or stay-at-home date.
Emile Henry Baguette Baker – I can't think of anything more romantic than fresh baked bread.
Lonely Label Bra and Brief Set – Nothing is better than a pretty, supportive bra.
Fenty Gloss Bomb Universal Lip Luminizer – One of the best glosses around!
Jacobsen Salt Co. Salt Sourced Vial Set – Pretty salt just feels so fancy!
Hill House Home Ellie Nap Dress – I love their new "English Garden" prints!
Boy Smells Hinoke Fantome Candle – Boy Smells really elevates candles, and this one is mysterious, smells expensive, and would make anyone smile.
Soho Home Country House Flat White Cup and Saucer Set – As a tea drinker, these mugs help my necessary caffeine consumption feel more like a treat than a item on my to-do list.
Ugg Fluff Yeah Slippers – these are ridiculous and definitely a splurge but they do look comfy AF (as fluff.)
Maison Margiela Lazy Sunday Morning Perfume – this is an all time fave, but a limited edition release in red for Lunar New Year / Valentine's! It's the same scent, but they're really selling me with the color!
Skin Gym Face Sculptor – I scored one of these (for $15 on Mercari!) and I am obsessed. As someone with a tiiiight jaw, this has been a great way to work out some of the tension, and I do kinda think it's sculpting my cheekbones a bit. Two birds!
Audio-Technica Bluetooth Record Player – I've started to grow my record collection over the past year and this is on my to-buy list the second I find a place to put it!
Perfect V-Day Movies & TV Shows
Portrait of a Lady On Fire – this is one of my favorite romantic movies of all time, and it's definitely a tear jerker. You can really feel the love in this one.
Definitely, Maybe – this movie is so cute and fits the mold for a good rom-com. Way better than How I Met Your Mother, tbh.
Closer – if you want something a little more steamy and mysterious, this is the one for you. It's got everything – lies, quotability, Natalie Portman in a pink wig, and is cheesy and sleazy enough but had an ending I didn't see coming.
Modern Love – this series is so bingeable and really looked at love and relationships from all angles. I laughed, I cried, I cringed. One of the best shows I've watched in the past year.
Bridgerton – based on the reviews I'd say this is just trashy enough with just the right amount of pretty costuming to keep all parties engaged and be a good valentine's watch.
Valentine's Recipes
Meghan Markle's "Sexy" Zucchini Pasta
Peek at my Pinterest boards for all things Sweet and Savory!
What are your Valentine's plans?